7 Winning Strategies for Selling Football Spiritwear
Football season is here and that means it is time to show your team spirit!   Whether selling to a parent or a student, selling football spiritwear is profitable and builds community spirit.   Here are 7 winning strategies to help you score big this football season.
Create Eye Catching Designs
Did you know we have over 250 customizable football layouts you can make your teams in a matter of seconds?   Add that number to 8000 additional layouts that can be made into a football spiritwear design by just changing the clip art to a football related clip art.  Additionally, check out the team mascots and 150 pieces of football specific clip art you can use in any design.   This includes helmets, footballs, football players, field diagrams, goal posts, lights and officials noting a touchdown.    Where do you find all this free art?  In the Easy View online design center.    Get started by adding a layout, changing to your team's name and colors and instantly you  create an eye-catching design.
Here are three best-selling football Spiritwear customizable layouts with two totally different looks.   The first, Captains Football is a classic look.   This is Easy Print layout, QFB-269.
The second adds a little splash, and the team's motivational phrase, Greatness is Earned not Given and is Easy Prints layout QFB-206.
Offer a Variety of Items
Use the same artwork on a t-shirt, a women's tank, a hoodie, a cinch sack and a rally towel.   Optimize your printing costs by using the same design on a variety of items and sell more to the same customer.    Use bundling to put together fun packs that might include a cap, a shirt and a bag!  Try different shirt styles, this 2 color Goof Proof design, QFB-261 on a camo colorblock long sleeve  t-shirt (ST376LS).
Optimize the Gang Sheet
We sell custom transfers by the sheet.  You paid for the real estate, be sure to capitalize on it!    Use extra space for a branding shirt tag, a cap print, or for a free print on rally towels!   For our screen-printed transfers, Goof Proof, Hot Split and Elasti Prints, our standard sheet is 11.25" x 14" and Jumbo sheets are 12.5"x 17.5".    Screen printed transfers are perfect for 1-2 color printing.      If you want to print in full color, our UltraColor Pro digital transfers are a large, 11.5" x 18" sheet size.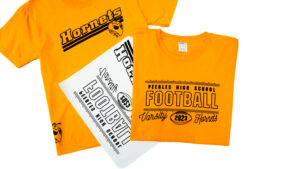 Unique Placement
You want your school spiritwear to stand out from the crowd, and an easy way to do this is to use unique placement.   For this Viking team hoodie, we added the Viking horns to either side of the hood!
Don't Forget Powder Puff
Most schools will hold a a powder puff game and they will all need shirts!
Add Personalization
Adding Mom, Dad, sister or brother instantly adds value to the shirt.    Add these titles to every gang sheet so you have them on hand.
Be Ready for the Playoffs
Is your team looking good and headed for the playoffs?   Design early and save in your library and you are immediately ready to go win they win.   How fast?  Your 1 color transfers ship in one business day when ordered by noon and our 2-color ship in two days.   Be  ready to cheer on your team as they continue to advance.
That is a touchdown plus the extra point!   Do you have ideas that have worked for you?