Full Color Transfers: White Outline vs No Outline
When you need a full color transfer option, there are several options to choose from.
Whether you have lots of colors, photographs, or full color artwork with shading and gradients, the full color transfers are your way to decorate apparel with these types of images.
There are three types of CAD-PRINTZ® digital transfers: Express Print, Opaque, and Sub Block. Your other full color transfer option is Stretch Litho™.
If you are unsure which transfer type to use, we compare all of these transfer types in our recorded webinar.
If you choose to use one of the CAD-PRINTZ digital transfers, you will have to choose if your transfer artwork will have a white outline, no outline, or a colored outline.
White Outline on Full Color Digital Transfers
By default, CAD-PRINTZ digital heat transfers (and non-apparel products such as stickers) will come with a white outline.
This outline is thin and is around every outer edge, including if there are any show-through areas in the middle of the transfer artwork.
Most of the time, the white outline is fine for most orders. At times, it even helps the artwork pop with the contrast it adds compared to the apparel color.
However, you do have the option to remove the outline completely or change the color of the outline. These two options do come with a small fee.
It really comes down to preference.
Colored Outline on Full Color Digital Transfers
If you do not want the white outline around your artwork, one option is to do a colored outline instead of the white.
The colored outline will have to be the same color around the entire artwork, including any show through areas. Any edge of the transfer will contain this thin colored outline. You can choose any color.
The advantage to this is if you would like to try to match the apparel color, so it looks like there is no outline.
The other reason to do this is if you would still like to have an outline to make the artwork have contrast with the shirt color, but would like a different color outline other than white.
No Outline on Full Color Digital Transfers
Your other option is to choose to have no outline around the artwork.
Choose this option if you do not want a common outline color around your entire artwork.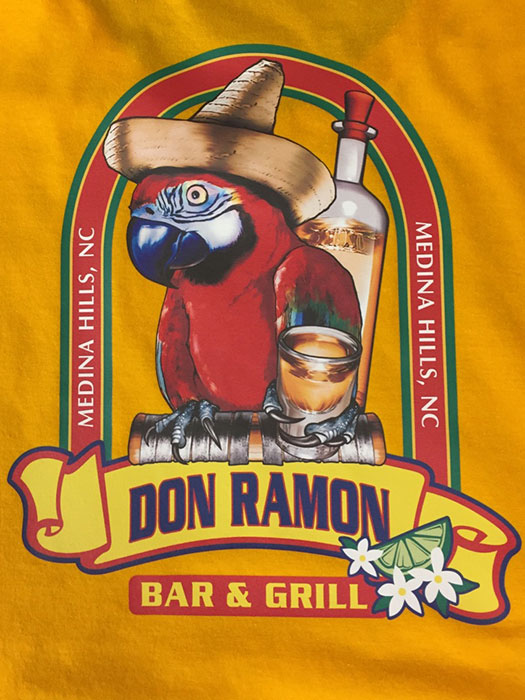 In the example here, you can see that the shirt artwork has a green edge, navy blue edge, red edge, and a black edge. This is how the transfer artwork was set up, and there is no extra outline added.
With no outline, your artwork edges will be exactly how your artwork is set up.
However, in regards to artwork specifications, in order to not have an outline, your artwork needs to meet the minimum printing and show-through guidelines.
For example, if there is text that is too small, then it will need to have the outline in order for it to meet the art specifications.
Another scenario where no outline would not work is if your artwork edges fade away into a halftone. There has to be an outline around this type of edge.
In these types of cases, you can choose either the default white outline or a colored outline.
How to Order Your Transfers with Your Outline Choice
If you are uploading artwork via our upload page, you will be prompted with the outline choice in step 3.
If you choose Colored Outline but your artwork is not set up yet with the outline that you would like to use, just add to the notes section in Step 1 of what color you would like to use.
When using Easy View, our online designer, to place your order, your outline choice is on the right hand side of the designer.
Click the dropdown arrow to make your outline selection.
If you would like a colored outline, you must also select which color.
After you click on the color of your choice, it will appear in the order details.
Conclusion
When it comes to choosing an outline option for CAD-PRINTZ full color digital transfers, it really comes down to preference as long as the artwork meets the required specifications.
The three outline options are: the default white outline, a colored outline, or no outline.
If your art does not meet the specifications, then an outline may be required so that your transfer art can be printed.