New Outdoors Inspired Clip Art and Layout Added to Easy View!
The Autumn months are a fitting time for our next set of weekly clip art and new layout ready for you to customize for your customer's t-shirt designs!
This week we were inspired by the outdoors, and based on your clip art suggestions, here's your new designs to add to any Easy Prints layout available in Easy View.
Our forest animal friends are dominating the clip art list and we're excited to add these adorable animals for you to use for your heat transfer designs.  Popular deer designs like the geometric deer clip art, X2D-35,   will be a popular choice this year for apparel designs. Give the geometric deer a lot of color or keep as a simple one color design. Or use your creativity with deer antlers, X2D-36, and add them to just about any clip art or text for an outdoorsy look!
To round out the new animal clip art this week, you will also find a new flying hawk X2B-218, a simple and elegant loon clip art X2B-219, and the most adorable hedgehog, X2M-208.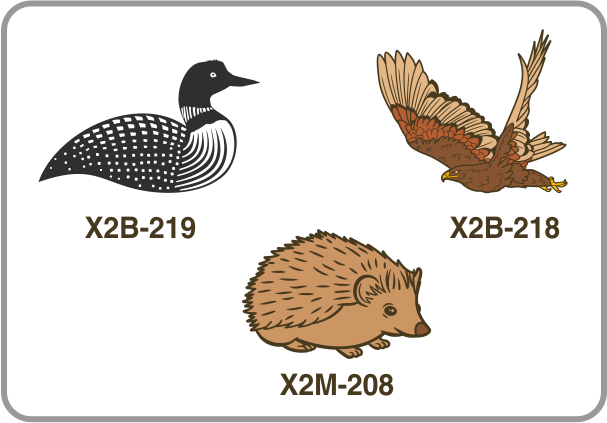 You can see how the new kayak clip art with an aerial view, X15X-267, is used in new layout QCL-50! A perfect layout design to outfit your customers with an awesome design fit for the outdoors.
If you're not into putting too much energy into enjoying the outdoors, opt for relaxing in an inner tube, X2X-268 and sailing away down a lazy river.
Start customizing transfer designs using these new outdoor clip art and new layout that will be a perfect fit for your customer's next order!