Pricing and Custom Transfer Order Details in Easy View
In Easy View® online designer, pricing is calculated on the fly as you design.
As you add your art, quantity needed, ink colors, etc, the price will update in the bottom right pricing area.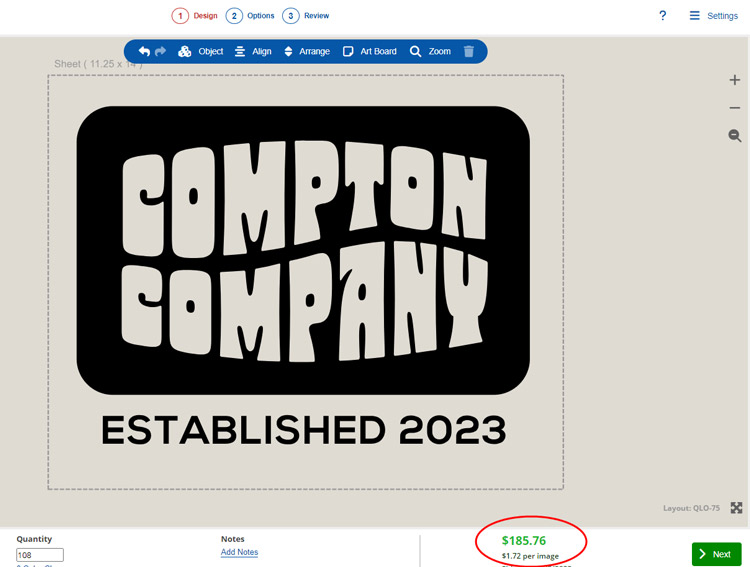 When you make any changes that affect pricing, you can see the updated price as you design.
If you want to compare pricing for different transfers, click on the options in the "Print Method" section in the lower left corner to see the updated price for each option.
For our screen printed transfers, pricing is calculated by the quantity (number  of sheets), number of colors, transfer type, and artwork source (your artwork or our layouts). For the UltraColor full color transfers, pricing is based on the number of sheets (except the direct to film transfer, UltraColor Max, which is priced by the square inch).
Your sheet size is yours to fill with as much art as you can fit for the same price. These are called gang sheets. If you only have a small piece of art, Easy View will automatically gang the image for you with as many that will fit.
You'll see this happen in the review screen. Since you put how many images you need in the quantity, Easy View will calculate how many sheets you need if more than one image will fit on the sheet.
You'll also notice that Easy View will calculate your "per image" cost if more than one will fit on the sheet.
Easy View will also help you save money by letting you know if ordering more will be cheaper for you! You'll see a warning in the bottom bar.
For example, if you need 100 sheets, it will actually be cheaper to order 108.
Click the green Next buttons to review all the order details and when you are ready to order, click the Add to Cart button. You'll then be redirected to your cart with your transfer order, ready to purchase.