Webinar Series to Help You Grow Your T-Shirt Business
During these hard times, we want to help t-shirt businesses the most we can.
We are all in this together, including us at Transfer Express.
When there are no events, schools, or sports going on, we know it impacts the custom apparel industry. So when you don't have any customers coming to you for custom apparel, we aren't printing custom transfers, either.
Regardless, we want to keep moving forward and we hope that you will move forward with us – the best we can, of course.
One way we are attempting to help you during this time is offering free education opportunities.
Utilize Education to Create New Opportunities
There is so much information out there on the web that you can utilize straight from your home.
If you are stuck in your home right now, this one is perfect for you.
Think of this as virtual classrooms.
If you are experiencing extra down time right now in your business, use the time wisely by educating yourself. Learn something new to help your business, whether it's a new marketing strategy, or a different way to decorate.
Now is the time to learn and start to implement while you have time. Do the things you may have wanted to do but never had time to accomplish.
Plan now so you can get these things ramped up and ready so when business is open again, you are all ready to go with these strategies instead of trying to implement them later.
Maybe it's creating a new sales channel through Spirit Sale.
Maybe it's learning new pricing strategies, marketing ideas, photography skills, or learning social media better to promote your business.
Maybe it's learning different transfer positioning tips so that you can work faster when business gets busy again.
We want you to be successful in your business.
And because of that, we have been offering monthly webinars for over a decade on a different aspect to help you in your t-shirt business.
Well, we have a large vault of recorded webinars that we want to share with you.
To help you learn more during this time, we are offering a series of "live replays" on our most popular and demanded webinars.
Sign up for a single webinar or all of the webinars we have scheduled on some of the most important topics for your t-shirt business.
These webinars were very popular so we are pulling them from our library and replaying them for you. We will be there live to answer any questions you may have.
These are interactive online classes, so you don't have to leave your home.
Even if you think you may know a particular topic fairly well, it's always great to get a refresher because it can definitely stimulate new ideas for you.
All of the scheduled webinars are for Tuesdays and Thursdays starting at 2 pm ET and will last anywhere from 25 – 60 minutes.
These are all free to attend, so sign up for as many as you want to learn from!
Webinar Schedule
How to Start a T-Shirt Business
Tuesday, March 24 – Register Now
Let's Get Started – Placing Your First Transfer Order
Thursday, March 26 – Register Now
Growing Your Hobby into a T-Shirt Business
Tuesday, March 31 – Register Now
How to Price Your Custom Apparel
Thursday, April 2 – Register Now
How to Position Transfers
Tuesday, April 7 – Register Now
8 Mistakes to Avoid to Successfully Print a T-Shirt
Thursday, April 9 – Register Now
T-Shirt Packaging: 25 Unique Ideas for Packaging and Displaying your Apparel Business
Tuesday, April 14 – Register Now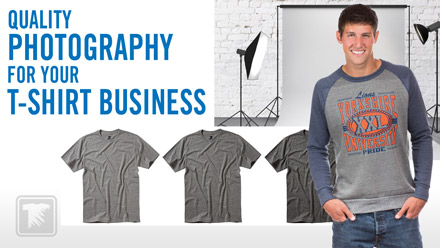 Quality Photography for Your T-Shirt Business
Thursday, April 16 – Register Now
Marketing Your T-Shirt Business
Tuesday, April 21 – Register Now
How to Use Social Media to Promote Your T-Shirt Business
Thursday, April 23 – Register Now