Black History Month T-Shirt Ideas
February is Black History Month.    This is a time to celebrate the achievements of black Americans and learn about our nation's history.  There are many events that will be needing shirts.    Libraries and schools both host educational events that may pair well with a pop-up shop.  Museums are also a great place to approach for possible Black History Month sales, perhaps working with them for a fundraiser.    It is also a great time to sell motivating shirts through your Etsy store or a pop-up store.  Let's take a look at some ideas you can create with a heat press and custom transfers.
Full Color
Often the colors red, black, green and yellow are associated with the celebration of black history month.    With our full color offerings don't be afraid to offer all of these colors to your customers.  If ordering under 36, our UltraColor Max, direct to film transfers will be your choice.   These now ship next day when you order by midnight and you can order just 1 if you want to show potential clients a sample before placing your larger order.  For larger orders- typically at about 36 or more, UltraColor Pro becomes the value solution since this product offers price breaks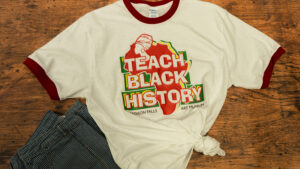 Special Effects
Using a special effect like foil transfers can really make the celebration shine.   Order the foil adhesive in the design you create.  Then lay the foil on top and peel.  Foil is available in the gold shown, silver, black pearl, rosy red, gun metal, multi-stripe, Indy pink, blue, green, bubblegum pink, purple and copper.
Bold Statements
Simple text in one or two colors can also have a big impact on promoting social justice.     Here are a few one color variations with our best-selling white Goof Proof on a black shirt.  Goof Proof applies in just 4 seconds saving you tons of application time.    You can gang a bunch of ideas together on one sheet, order just the 6 sheet minimum and have several winning looks
We would love to see some of shirts you create, tell us about them in the comments.