Celebrating New Life with Layouts for Baby Showers and the Lunar New Year
We added all new layouts in Easy View to celebrate new life and the start of the new year! We're adding layouts for Baby Showers and the Lunar New Year!
The Lunar New Year (Chinese New Year) is January 22, and we celebrate the arrival of spring and the beginning of a new year. As the most important holiday in China as well as other countries, we wanted to give you new layouts to create t-shirt designs.
Spring is also a popular time for Baby Showers and so we of course couldn't resist creating adorable and precious designs to celebrate our little ones.
We added 5 brand new design layouts to get creative with – as well as some fun new full color clip art from our friends at Great Dane Graphics.
We're sharing all the details in this blog post!
Introducing the New Lunar New Year and Baby Shower Apparel Designs to Customize
We add new design layouts weekly to the Easy View® online design center at Transfer Express. These layouts give you ready-to-customize professional designs without any prior design knowledge. Even complete graphic design newbies can create beautiful t-shirt designs using these layouts!
We will turn your finished design into heat transfers that are ready-to-apply to any blank apparel.
You'll find the new layouts in Easy View — alongside thousands of other design layouts and clip art for you to use.
To get to the new design layouts, all you need to do is open Easy View, select Add Layout. From there, choose the Occasions section and browse the Holidays category.
From here, you can scroll through to discover these new apparel design options.
New Lunar New Year Layouts in Easy View
The first new layout we added QHL-150 celebrates 2023, the Year of the Rabbit. We wanted to bring Chinese art and aesthetics to your apparel designs with this design. Including the clip art of lanterns, fireworks, fruit blossoms  and traditional geometric patterns.
Photo below:  Gildan® – DryBlend® 50 Cotton/50 Poly Long Sleeve T-Shirt 8400 Red
The next layout we added for the Lunar New Year is Easy Prints layout QHL-148. A full color rabbit with gold accents and beautiful fruit blossom flowers add to this new Chinese new year layout.
Photo below: Port Authority® Cotton Canvas Shopper Tote BG428 Black
New Baby Shower Layouts in Easy View
Create apparel for baby showers and baby events with these adorable new layouts.
First, Easy Prints layout QEV-222 is the Snuggle is Real design perfect for a onesie. Customize this layout in the Easy View online designer with your own text and color as needed.
Photo below: Rabbit Skins™ Infant Short Sleeve Baby Rib Bodysuit RS4400 Yellow
The second design features a full color rocking horse clip art from Great Dane Graphics!  Customize new Easy Prints layout 3D-548 in Easy View for the cutest baby shower apparel.
Photo below: Rabbit Skins™ Infant Long Sleeve Baby Rib Bodysuit RS4411 Light Blue
We are also adding this new layout QEV-223!
Photo below: Rabbit Skins™ Infant Football Fine Jersey Bodysuit RS4437 Vintage Royal/White
BONUS Full Color Logo Clip Art: Full Color from Great Dane Graphics
Did you love the new design layouts above? We are just getting started! In addition to the 5 Designs above, there are bonus full color clip art from our friends at Great Dane Graphics!
Artwork from Great Dane Graphics gives you bright, full color design options to use for your heat transfer designs.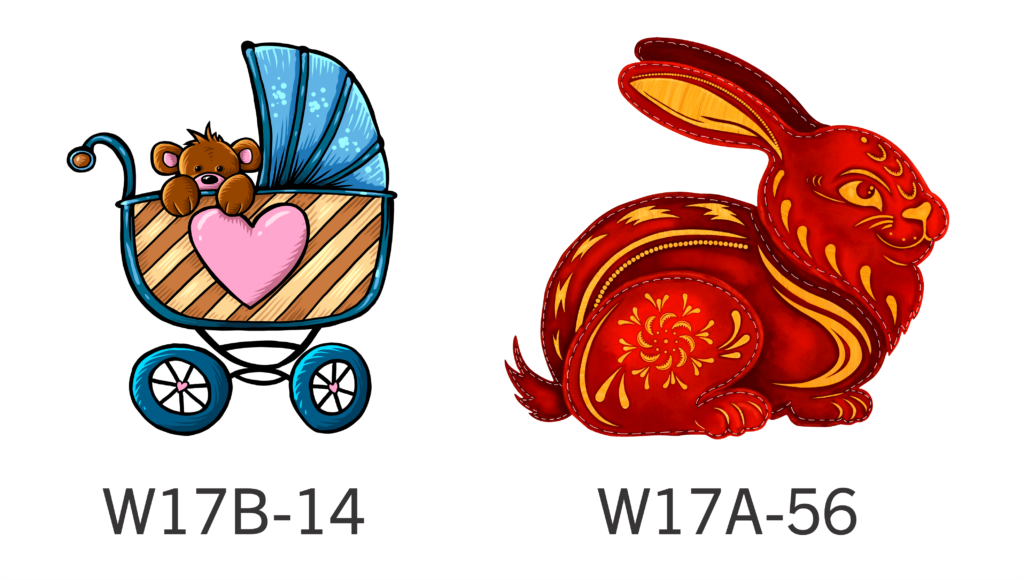 Add these colorful graphics to any Easy Prints® design layout in Easy View to create the perfect design for your customer.
These full color graphics make it easy to create bright, colorful designs for heat transfers like UltraColor® Max and the new UltraColor® Pro.
To design and order your digital heat transfers, simply search for the clip art ID number below in Easy View or browse all clip art from Great Dane Graphics by selecting Add Clip Art and then choose the Full Color/ Great Dane Graphics category.
What do you think of Transfer Express' new trending apparel designs to customize ? Join the conversation over on Transfer Express' Facebook channel!
Like to stay on top of all the latest trends and feature releases? Subscribe to Transfer Express' blog for all the latest heat printing news, tips, and more!