Jumbo Sheets are Here
We are excited to announce the addition of a bigger transfer sheet size for our screen printed transfers including Hot Split, Elasti Prints and Goof Proof.   This new custom transfer sheet size is 12.5" x 17".
Save Money With One Order
The larger sheet size means you can get 2 full adult size custom transfers + 2 left chest custom transfers + 4 Shirt Tags all on the same sheet.   In this example, we did spirit wear shirts for both the boys' baseball team and the girls' softball team plus coach's shirts for both.   Since they are all the same ink colors, we put those on the same sheet and by doing just 1 order our savings are substantial.     Remember one order is always less than 2!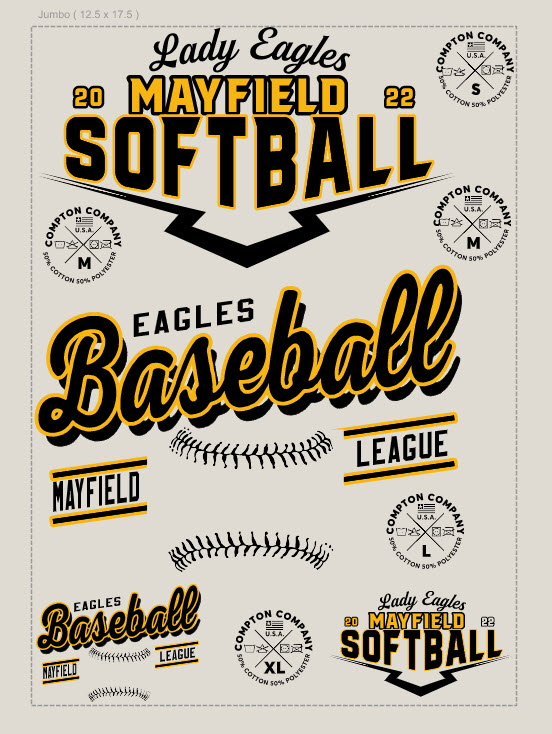 How To Order Jumbo Sheets
Jumbo Sheets can be ordered in the Easy View online design center.   In this free online designer you can use thousands of preloaded layouts, clip art and fonts.   Or upload your art onto the design center artboard.
To start,  at the bottom left you will see the two sheet sizes available for screen printed transfers.   Standard 11.25 x 14, and Jumbo 12.5 x 17.    The size will be represented on the artboard by the dotted lines.   Within those lines, fit what you need in the standard space, this saves you even more.   But if the jumbo artboard gives you the space you need, then this is definitely worth the slight uptick in price.
The measurements for each of the prints you are creating can be found in the left tool bar.   Just rope the image you want to see the measurement.    This image is the standard adult 11" wide x 6.22″ tall.  Once your sheet is filled you are ready to order.  Enter how many of that sheet set up you need at the bottom.  An instant quote will appear and if available, suggestions for even better pricing.  If your quote looks good, add to cart and order!   Your transfer will ship in 2 business days.  Once your order arrives, press and deliver!
Show us what you created on the new jumbo transfer sheets.