Using QR Codes on T-Shirts
You can easily print QR codes on t-shirts using heat applied transfers.
QR codes, or Quick Response codes, are those square scrambled barcode-like images designed to be scanned using your smart phone. Once scanned, it will take you to a website or video where more information is shown.
It's a quick way to get someone to your website or other web url.
You see them in all types of advertising and displays.
Adding a QR code to a t-shirt is a great way to promote your cause or business.
How to Create a QR Code
A QR code is easy to create. There are lots of free websites that will generate one for you. Link it to a website or video where more information is shown.
A site like qr code monkey will allow you to export your final QR code in multiple file formats, such as .png, .svg, .pdf, or .eps.
[Related Content: The Complete Guide to Image File Types]
Keep this in mind because it will be useful later when choosing a heat transfer type.
Start with your website url that you want to link to in your QR code. If you have Google Analytics set up for your site, it would be beneficial to add in some tracking parameters to see how effective your QR code is, but it is not necessary. You can do this using a Campaign URL Builder.
[Related Content: How to Create a Website for Your T-Shirt Business Using WordPress]
Once you have your QR code, you can upload it to Easy View online designer to get it made into a heat applied transfer.
But before we upload the file into Easy View, you should have an idea of which transfer type you're going to want to use before you export your QR code from the online generator.
Choosing a Transfer Type
Choosing a transfer type may be steered by the size of the QR code you want to use for your design.
Since QR codes are pretty intricate in how they are designed, you don't want to lose any detail, especially at smaller sizes.
If the QR code is too small to read, phones will not be able to scan them and they won't work. This completely defeats the purpose of the QR code if it is no longer scannable.
Therefore, knowing what size you want to print the QR code will help choose a transfer type.
A full color digital transfer will be able to hold much more fine detail throughout the printing and heat pressing process as opposed to a screen printed transfer.
So if you are going with a tiny design, you'll want to choose a digital transfer. We tested as small as ½" x ½" QR code and it still worked great.
On the other hand, the smallest QR code size that would still scan using a Goof Proof screen printed transfer was 1.5" x 1.5".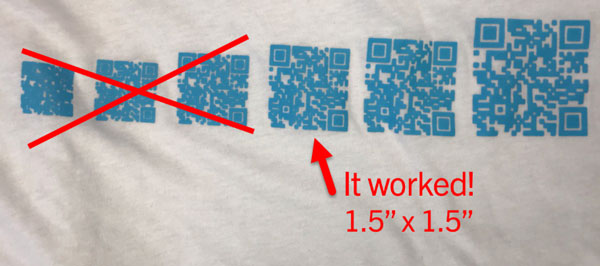 If you are planning on printing a QR code less than 1.5" x 1.5", you'll want to use a digital transfer type. Digital transfer types include transfers like UltraColor Max or UltraColor Pro.
Knowing which type of transfer you are going to use will help you decide which type of file format to export for your QR code when you are generating one online.
For screen printed transfers, it's better to have vector artwork. Therefore, if you are going to use a screen printed transfer like our best-selling Goof Proof, then you'll want to use a file type like .svg or .pdf.
On the other hand, if you are going to use a full color digital transfer, you can use almost any file format. This includes a .png.
Adding QR Codes in Easy View Online Designer
Uploading your QR code is super easy. Once you are logged into Easy View, click on the "Upload Your Art" on the left side toolbar.
You'll then be prompted to choose your file from your device.
Now, if you are uploading a vector image such as a .svg or .pdf, it will bring it right into your artboard. Then you can match the color to the ink color you would like it printed.
However, if you are using a .png, it will first open in the Image Editor. If you are using a full color transfer type, then just choose "Keep Original" and then "Full Color" for the Color Count.
Once your image is brought into the artboard area, make sure your transfer type is correct in the lower left corner.
Printing T-Shirts with QR Codes
When adding the QR code to your t-shirt, you can approach it in several different ways.
First, you can use the QR code as the main part of your design. Print a big QR code in the middle of the shirt. If you want to attract attention and curiosity, this can be a good way!
Second, is to put a smaller QR code somewhere more obscure on the shirt. The QR code is not the main design, such as on the inside neck label. For example, you might want every shirt you custom print to have a QR code on the label. Then, those customers know where to get custom shirts and how to order. This is a great way to link your delivered shirts to your website so they can order more shirts.
The third is to incorporate the QR code into your design. For example, as shown here, we incorporated the QR code into a football layout. Link the QR code to a highlight video. Or you can do it for a choir or band and link it to their music.
Be creative and have fun with it!