New Basketball Layouts to Customize in Easy View®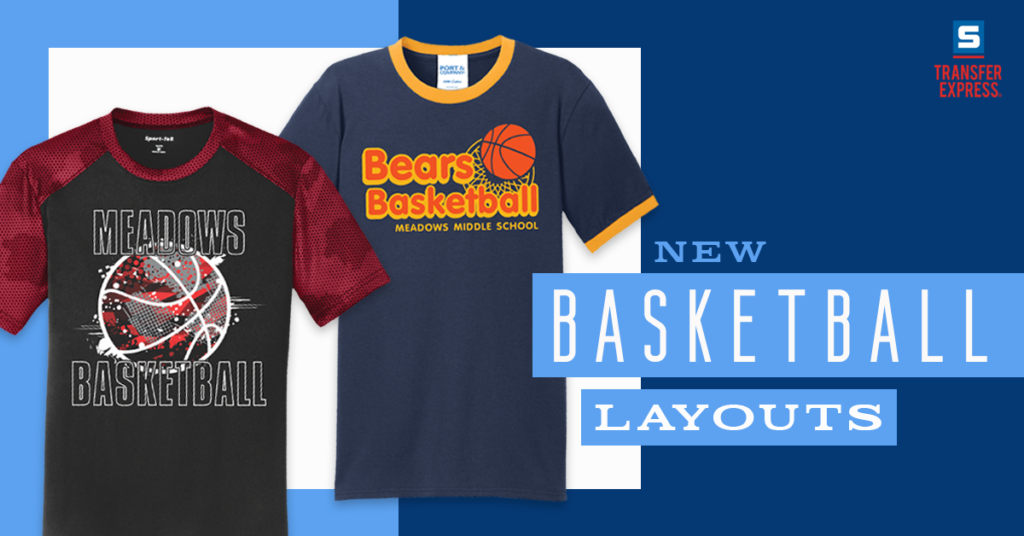 Basketball season is upon us and creating a new look for basketball uniforms, coach's gear, fan wear and fundraisers doesn't need to be difficult. There are hundreds of layouts to choose from out of our Easy Prints collection in the Easy View Online Designer, creating a unique design for the basketball crowd just got easier!
Basketball players and fans are looking for a new look this season and you'll find these new design layouts to customize in the Easy View Online Designer!
The first layout our designers have added is a perfect layout for this year's basketball season for fan wear. Customize 3D-441 with the school or team name or event and add your the team's color scheme to spread spirit across the court and stands. WE love the rugged look with splatters and halftone elements inside the basketball that gives this design a unique look with outlined text.
This design has full color capabilities and can be printed using UltraColor® Soft heat transfers. Apply this design to any performance wear basketball apparel like this Sport-Tek® Youth CamoHex Colorblock Tee YST371 from Transfer Express Apparel.
The next layout our designers have added is QBK-278 and perfect for team apparel, tournament apparel, fan wear and more! This versatile design works great for any type of apparel as well including t-shirts, hoodies, bags, caps and more.
For this example, our go-to tee is Alternative Go-To Tee shown below in Light Grey.
For a retro cool basketball look, choose new layout QBK-277 with basketball and net clip art. Customize the layout with the team and school name and change the colors to the team colors. We have over 70 stock ink colors to choose from for your heat transfers so this design will go great on any color. The design pairs perfectly with our Express Names™ player names in Vogue font and stock numbers to personalize player gear.
QBK-277 is shown below on a Port & Company® Core Cotton Ringer Tee PC54R

This next layout is sure to be on the Best Seller's list next year! This layout, QBK-282 is a perfect design to give players and fans an edgy design with a rugged basketball hoop clip art and Rewind font.
Shown below on an Anvil® Ladies Long Sleeve Hooded T-Shirt
Creating Basketball apparel designs with these new layouts is so easy! Browse more design layouts and sign up with Easy View to start customizing for your local baseball and softball teams. Then head over to our site to start your 30-day free trial. Choose any of the layouts or the new one above and start customizing. Once you're done, order the heat transfers from Transfer Express and heat print them onto your blank apparel!
Connect with us on Facebook to see more ideas and inspiration for heat printing apparel!
Subscribe to our blog for more layouts and clip art being added each week like these baseball and softball layouts!