New Design Layouts for Awareness Apparel
T-shirts have always been a popular way to show support for causes and raise awareness about important issues. That's why we've created 5 new designs for you to create the perfect design for spreading awareness of the vast neurodivergent conditions like the commonly known Autism Spectrum Disorder (ASD).  Creating new t-shirt designs for awareness events, fundraisers, and other causes can help to spread the word and raise funds for research and support.
In this blog, we have 5 new Awareness layouts for you to help spread awareness and understanding of autism and other neurodiversity causes.
Introducing the New Awareness Layout Designs
New layouts are added weekly to the Easy View® online design center at Transfer Express. These layouts give you ready-to-customize professional designs. Even complete graphic design newbies can create beautiful t-shirt designs!
We will then turn your finished design into heat transfers that are ready-to-apply to any blank apparel.
And without further ado, the new awareness layouts are here!
The brand new layouts can be found in Easy View — alongside thousands of other design layouts and clip art for you to use.
To access the new lacrosse layouts, all you need to do is open Easy View, select Add Layout. From there, choose the Fundraiser category from the Occasions section.
From here, you can scroll through to discover these new design options:
Or by searching the layout ID below.
New Awareness Layout Design #1:  
The first layout we added to Easy View is layout 3D-562. This design features a popular trendy style that brings you back to the 70's with bright bubble letters and happy face clip art.
Photo below: Layout 3D-562 shown below on Port & Company® Performance Fleece Pullover Hooded Sweatshirt PC590H in Deep Navy
New Awareness Layout Design #2: 
When designing for awareness issues, it is imporant to use bright, bold colors. We added this colorful design featuring watercolor splatter and butterfly to help your customers embrace their diversity. Customize this new awareness layout 3D-563 in Easy View with your own text and clip art to make it your own!
Photo below: Layout 3D-563 shown below on Allmade® Women's Relaxed Tri-Blend Scoop Neck Tee AL2015 in I like you blue
New Awareness Layout Design #3: 
We all have beautiful minds of all kinds. We added new awareness layout 3D-564 which features a floral brain design showing the beauty of every person.
Photo below: Layout 3D-564 shown below on District® Women's Perfect Tri® Midi Long Sleeve Tee DT141 in Military Green Frost
New Awareness Layout Design #4: 
We also added this new Neurodiversity layout featuring a brightly colored rainbow infinity symbol. Customize layout 3D-565 now in Easy View!
Photo below: Layout 3D-565 shown below on District ® Perfect Weight® Tee DT104 Maritime Blue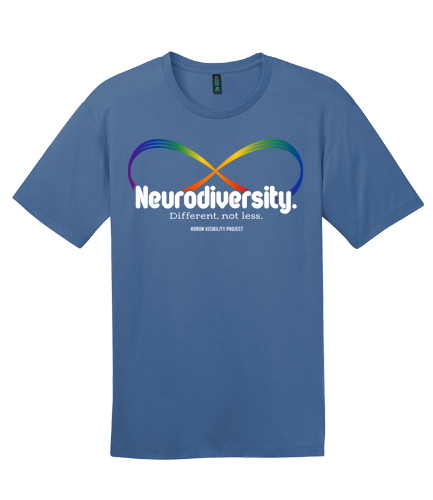 New Awareness Layout Design #5: 
Last but not least we have layout QFD-80! This layout features a lightbulb with the text "Not all great minds think alike".
Photo below: Layout QFD-80shown below on Port & Company® Beach Wash® Garment-Dyed Tee PC099 in Dijon
BONUS Full Color Logo Clip Art: Full Color from Great Dane Graphics
Did you love the new design layouts above? We are just getting started! In addition to the 5 Designs above, there are 5 bonus full color clip art from our friends at Great Dane Graphics!
Artwork from Great Dane Graphics gives you bright, full color design options to use for your heat transfer designs.
Add these colorful graphics to any Easy Prints® design layout in Easy View to create the perfect design for your customer.
These full color graphics make it easy to create bright, colorful designs for heat transfers like UltraColor® Max and the new UltraColor® Pro.
To design and order your digital heat transfers, simply search for the clip art ID number below in Easy View or browse all clip art from Great Dane Graphics by selecting Add Clip Art and then choose the Full Color/ Great Dane Graphics category.
What do you think of Transfer Express' new awareness apparel designs to customize ? Join the conversation over on Transfer Express' Facebook channel!
Like to stay on top of all the latest trends and feature releases? Subscribe to Transfer Express' blog for all the latest heat printing news, tips, and more!