New Designs to Decorate Apparel for Local Trades
Local businesses in your area or abroad are looking for ways to brand their small businesses with professional artwork. Jobs like construction, plumbing, heating and cooling,  and other trades are great opportunities for sales, since they go through a large volume of shirts.
Your customer's might not have a logo or design already created for you to imprint onto their apparel which is why we have our extensive collection of design layouts for you to customize, called Easy Prints®. With Easy Prints, you be the designer, and with the Easy View online design tool that is free for Transfer Express customers to use, you can create a professional design to use in your screen printed or digital heat transfer designs at Transfer Express!
Take a look at these new layouts added this week to Easy View for local trades
Construction companies of various types will find layout QBU-334 as the perfect design for their construction shirts and work wear. Each line of text can be customized with the business name and contact information or specialty. This design can be heat applied to a wide range of apparel items, from t-shirts, hoodies, jackets, polo shirts and more, you'll find this layout works for a variety of apparel items for your customer.
Also added to Easy View is layout QBU-350 designed for heating and cooling companies but is customizable for any profession or trade by simply switching the clip art and changing the text. The city businesses dedicated to HVAC are in need of their imprinted on their apparel. It's important for small trade businesses to wear branded apparel to get recognition in the community but also provide assurance to their customers that they are working with a reputable company.
Head over to Easy View now to customize this new layout!
As we add new layouts each week, we also get specific requests by customers for clip art or designs we are missing out of our collection. We received a specific request for a flooring clip art specifically for a flooring logo and voila! We have layout QBU-353 our designers created for you and is ready to customize for your local flooring business' apparel.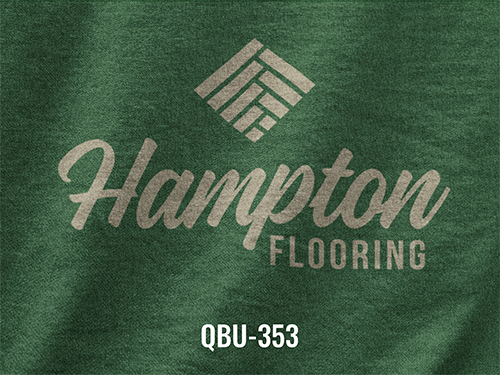 Creating apparel for the trades with these new layouts is so easy and will create professional artwork for their business! Browse more design layouts and sign up with Easy View to start customizing for your local construction, flooring and HVAC businesses. Then head over to our site to start your 30-day free trial. Choose any of the layouts or the new one above and start customizing. Once you're done, order the heat transfers from Transfer Express and heat print them onto your blank apparel!
Connect with us on Facebook to see more ideas and inspiration for heat printing apparel!
Subscribe to our blog for more layouts and clip art being added each week!