The Men's Athleisure Guide
Athleisure is not just for womens' clothing. The athleisure market has impacted menswear just as much as it has for womenswear.
Athleisure is a collision of worlds. It is athletic wear being worn as leisure wear. While it is of course being worn to work out in, it is also worn around town, lounging around, getting coffee, running to the store, etc.
This has been a trend for the past few years and it doesn't look like it is going away any time soon.
Your customers may have already been asking for it, or maybe you're getting questions about it now.
Either way, you can offer athleisure to your customers and make a nice profit.
[Related Content: Decorate More Athleisure Wear]
In our last guide, we covered womens' athleisure.
Now, here are some styles available for the guys.
Athleisure for Men
While men are not wearing the leggings, they are wearing the performance wear tees, pullovers, and sweats.
Tees/Tanks
Tees and tanks will always be a basic part of the athleisure look. Mainly, the 100% polyester moisture wicking materials are what customers will be looking for. There are many options available, but here are a couple to get started with.
Sport-Tek® PosiCharge® Competitor™ Tee (ST350)
As with the ladies guide, we'll start with the Sport-Tek version of the 100% polyester performance tee. It is light weight, roomy, and value-priced. It is moisture-wicking and comes in 25 colors.
Sport-Tek® Sleeveless PosiCharge® Competitor™ Tee (ST352)
The tank version of the Cometitor tee is the companion sleeveless tee. It has the same sweat-wicking properties with a greater freedom of movement. This version is also 100% polyester but only comes in 7 colors.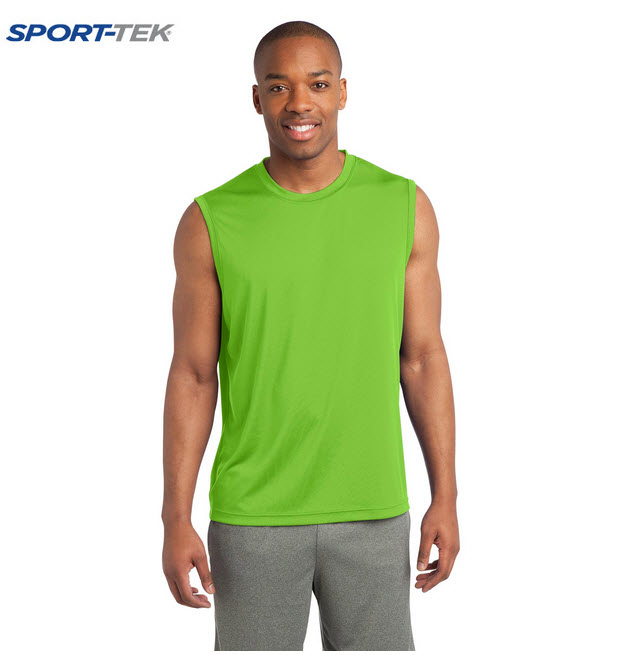 Alternative Eco-Jersey™ Crew T-Shirt (AA1973)
When you're looking for more of a relaxing and lounging style, Alternative has a triblend tee that is super soft. This classic style is 50/38/12 poly/cotton/rayon. Each garment has unique character and there are 10 color options to choose from.
New Era® Series Performance Long Sleeve Crew Tee (NEA201)
When you need a long sleeve shirt when the temperatures cool down, New Era has a sport-inspired, 100% polyester tee with unrivaled softness. This tee is moisture-wicking and odor-fighting. It is available in 7 colors.
BELLA+CANVAS® Unisex 3/4-Sleeve Baseball Tee (BC3200)
A baseball raglan style sure fits in with the athleisure look. This style from Bella + Canvas features ¾ sleeves and is available in 24 color combinations. The fabric blend varies depending on the colors you choose.
Pullovers
Whether it's an outdoor workout in cooler temperatures, or just out for a walk, pullovers are great for layering. Here are a couple of options to get started.
Sport-Tek® PosiCharge® Competitor™ 1/4-Zip Pullover (ST357)
Sport-Tek offers a nice pullover in the Competitor line that is lightweight and wicks moisture. It is versatile so it can be worn almost all year round. It features a cadet collar and is made of 100% polyester. This style is available in 9 colors.
OGIO® ENDURANCE Nexus 1/4-Zip Pullover (OE335)
This pullover style offered by Ogio features zoned ventilation, moisture wicking and odor control properties. The cuffs have thumbholes for warmth. It is made of 88/12 polyester/spandex, and comes in 4 colors.
Augusta – Shadow Tonal Heather 1/4 Zip Pullover (2908ASG)
Another pullover style available by Augusta has a two-part look with a heathered wicking knit top body, collar and sleeves while the bottom body has a solid wicking knit. All of it is 100% polyester and comes in 9 color options.
Hoodies/Sweatshirts
The next category consists of hoodies and sweatshirts. These are another layering option apart from the pullovers. There are also lots of these to choose from, as you might expect.
Sport-Tek® Sport-Wick® Fleece Hooded Pullover (F244)
We'll start with the Sport-Tek, 100% polyester hoodie that transforms anti-static fleece into an excellent warm up option. The top layer releases moisture from the inner layers. This hoodie is available in 10 colors.
Alternative Challenger Eco™ -Fleece Pullover Hoodie (AA9595)
Let's take a breather from the 100% polyester for a moment (no pun intended). This hoodie from Alternative is a soft triblend and made of 50/46/4 polyester/cotton/rayon. This fleece is perfect for guys on the go and comes in 6 colors. There is also a companion full-zip version (AA1970).
Alternative Champ Eco™ -Fleece Sweatshirt (AA9575)
Very similar to the above hoodie, Alternative offers a sweatshirt without a hood and is made of the same triblend materials, 50/46/4 poly/cotton/rayon. It is a relaxed athletic style that can go anywhere – what athleisure is all about. This is also available in 6 colors.
Alternative Eco-Fleece™ Baller Pullover Hoodie (AA3501)
We had to include this Alternative hoodie as well in the athleisure collection. It is a short-sleeved, fleece hoodie made of the triblend materials 50/46/4 poly/cotton/rayon. Although it is only available in 2 colors, Eco Grey and Eco Black, it is still something different and definitely fits in the athleisure talk (and walk).
Jackets
Since athleisure can be worn all year-round, indoors and out, jackets are part of the trend as well.
Sport-Tek® Sport-Wick® Fleece Full-Zip Jacket (ST241)
This style jacket from Sport-Tek looks like the classic track jacket. It is comes complete with the cadet collar and slash pockets. It is 100% polyester and moisture-wicking. It comes in 6 colors.
Holloway – Flight Bomber Jacket (229532ASG)
The bomber jacket is more trendy and leisurely than it is for working out, yet many like to include the bomber jacket in with athleisure. So if this is your style, here you go. This jacket from Holloway is as fashionable as it is versatile, with lots of pockets, accent features, and vintage details. It is woven polyester with an inner taffeta lining. This comes in 4 colors.
Pants
Now for the bottom half of the athleisure wear – pants. For men, there are mainly the polyester pants and the sweatpants. The biggest trend with athleisure sweatpants is the "jogger" style. There are plenty of options available.
OGIO® ENDURANCE Fulcrum Pant (OE400)
We'll start first with the athletic polyester pants. The Fulcrum Pant from Ogio only comes in black, but are perfect for working out or out and about. They are 95/5 polyester/spandex jersey. The legs are slightly tapered, which is the popular trend.
BELLA+CANVAS® Unisex Jogger Sweatpants (BC3727)
Now onto the jogger sweats. This version from Bella+Canvas features a white cord drawstring with side pockets and rib knit ankle cuffs. They are made of 52/48 cotton/poly fleece. They are available in 4 colors.
Holloway – 60/40 Fleece Jogger (229548ASG)
These joggers from Holloway will provide all-day comfort in a classic, tapered fit. They are great for athletics or just relaxing. They are 60/40 cotton/polyester and are in 4 colors.
Augusta – Tonal Heather Fleece Jogger (5562ASG)
Augusta has their version of the fleece joggers as well. These are 100% polyester fleece and wick moisture. They feature an inside drawcord, tapered legs, and side seam pockets. They are also available in 4 colors.
Accessories
And lastly, we have accessories for the athleisure fit.
Sport-Tek® PosiCharge® Competitor™ Headband (STA35)
Many guys like to wear headbands during workouts to keep the sweat out of their eyes or their hair if it is longer. With longer hair becoming a trend, these headbands also are great for keeping hair out of the face even during non-workout times. This headband from Sport-Tek is made from 100% polyester and is moisture wicking. It is available in 11 different colors.
Printing on Athleisure Apparel
Since a lot of athleisure wear is made of heat sensitive polyester and some includes spandex, there are some precautions that you need to take into account before heat printing any of these types of garments.
Yes, you are able to heat print these types of garments, but it's important to see first check what the apparel is made of before choosing a heat transfer type.
When your customers want apparel that contains large amounts of polyester, you will want to use a heat applied transfer that applies at a lower temperature so it doesn't scorch the heat sensitive polyester. Our Elasti Prints transfer works great for stretchy heat sensitive 100% polyester.
However, if your apparel contains any nylon or spandex, you will want to use UltraColor Stretch or CAD-PRINTZ Soft Opaque.
For some of the apparel items above that only contain cotton and smaller amounts of polyester, our best-selling screen printed transfer type, Goof Proof, will work great.
Besides the fabric types that the apparel is made of, keep in mind that most of these items are tighter fitting for athletics and are used during working out. This apparel is designed to breathe and allow sweat to be pulled from the skin and let it evaporate out of the top layer of the garment.
Ink can actually block some of these moisture wicking properties since it is mashed into the fabrics of the garment. With this in mind, make sure to create your designs with lots of open spaces and try to keep the size of the design to a minimum.
[Related Content: Designing T-Shirts for a Softer Feel]
Left chest designs are great for this reason on athleisure.
[Related Content: Left Chest Shirt Printing Placement]
Besides these tips, heat printing on these types of garments is no different than any other cotton t-shirt. Make sure to follow the instructions for each transfer type and to choose your transfer type wisely.
[Related Content: How to Heat Press a T-Shirt (Step-by-Step Guide)]
Browse all Transfer Express apparel >>