New Lacrosse Layout Designs for Heat Printing
Spring sports season is fast here! And with it comes the need for custom spring sport apparel. Lacrosse is one of the sports that will need custom apparel for this season.
It's that time! You now have 3 brand new design layouts to get creative with — as well as some fun new full color clip art from our friends at Great Dane Graphics.
We're sharing all the details in this blog post, as well as our top tips to take your Lacrosse t-shirt designs to the next level:
Introducing the New Lacrosse Layout Designs
New layouts are added weekly to the Easy View® online design center at Transfer Express. These layouts give you ready-to-customize professional designs. Even complete graphic design newbies can create beautiful t-shirt designs!
We will then turn your finished design into heat transfers that are ready-to-apply to any blank apparel.
And without further ado, the new field day layouts are here!
The brand new layouts can be found in Easy View — alongside thousands of other design layouts and clip art for you to use.
To access the new lacrosse layouts, all you need to do is open Easy View, select Add Layout. From there, choose the Lacrosse category from the Sports section.
From here, you can scroll through to discover these new design options:
Or by searching the layout ID below.
Stay tuned every week to discover new design layouts added to Easy View®, as well as our top tips on how to customize them: New Layout Designs, Ideas. and Tips:  
New Lacrosse Layout Design #1: Lacrosse Design QLS-77
For lacrosse lovers everywhere, this new design is for them!
We love this new design "Lacrosse my Heart" because it forms a heart out of two lacrosse sticks. This design will be an instant favorite if selling at lacrosse tournaments. Or Customize layout QLS-77 in Easy View with the local team's colors for team shirts.
New Lacrosse Layout Design #2: Lacrosse Design QLS-76
For a more minimalistic look, our designers created this simple team LAX design with lacrosse player silhouette.
The outlined team name stands out with the shirt color showing through. Customize this design and save money on your heat transfers by utilizing a gang sheet.
Horizontal designs like this will fit several on one sheet, making the most out of your heat transfer order! 
Like to stay on top of all the latest trends and feature releases? Subscribe to Transfer Express' blog for all the latest heat printing news, tips, and more!
New Lacrosse Layout Design #3: Lacrosse Design QLS-78
And last but certainly not least is layout QLS-78. Perfect for team uniform designs with crossing lacrosse sticks behind bold athletic text.
Already a popular design, you now have the ability to add this design to your customer's playbook and customize it for them! Change the text and colors in Easy View for an instant lacrosse design for your heat transfers. 
BONUS Clip Art: Full Color from Great Dane Graphics
As if the three new design layouts above weren't enough, we've also given you FIVE new bonus clip art from our friends at Great Dane Graphics!
These are not just any ordinary clip art. Artwork from Great Dane Graphics gives you bright, full color design options to use for your heat transfer designs.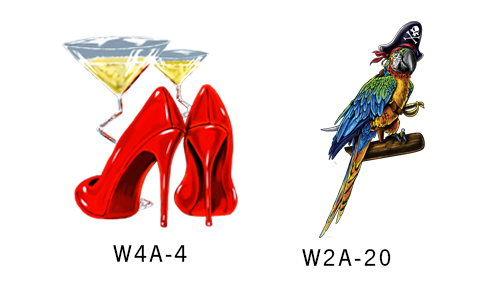 Like our other clip art, these colorful graphics can be added to any Easy Prints® design layout in Easy View to create the perfect design for your customer.
Simply search for the clip art ID number below in Easy View or browse all clip art from Great Dane Graphics, including these, by selecting Add Clip Art and then choose the Full Color/ Great Dane Graphics category.
What do you think of Transfer Express' latest layout options? Join the conversation over on Transfer Express' Facebook channel!