Selling T-Shirts at Craft Fairs
It is the holiday season, and with all of the supply chain issues there is no better time to sell local.    If you sell custom t-shirts, selling at a craft fair is an opportunity to generate sales.    Dedicate a weekend to a craft fair and you will make those December sales goals.
 Find Your Niche
One of the biggest mistakes a new craft fair vendor makes is to try to sell some of everything.   Without a focus, potential customers will just walk on by.     Some possible niches are infant wear, matching child/doll clothes, community spirit, holiday wear or school Spiritwear.    With the right target you can have the busiest booth at the fair!
What To Carry
Once you have chosen your niche, figure out what that audience wants.   Is it just t-shirts and hoodies?   Don't stop there, the same transfers will work on can coolers, tote bags, aprons, towels, blankets and pillows.    You can make more than one sale from the same customer.
Creating Your Designs
Once you have your niche, and your product line it is time to create the designs and order your custom transfers.   Use the gang sheets and the online design center to put multiple items on the same sheet to really stretch your possibilities and profits.   The example below will be able to print 3 different items and has a branding tag to promote your business.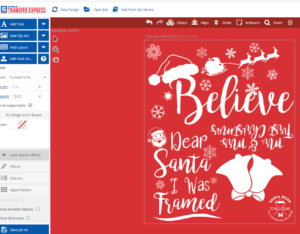 Setting Up Your Booth
A big decision will be to pre-press your items before the fair staff, or to order electricity and press on demand.     The advantage of on demand printing with your heat press and custom transfers, is that it minimizes your risk.    You can press only what is selling and return unused blanks or use for something else.   With the application as fast as 4 seconds it is easy to press and sell.
Booth Display
Your display is what will make people stop and take a look at what you are offering.    You should be able to set up and tear down quickly.    Keep your display organized and the prices easy to see.    Use a tagging system so that your customer can easily make a choice.
Add a sign with your company name and accepted payment methods.   Another proven idea is a sign that tells your story.  Why you do what you do!
Start Selling
The craft fair is starting, it is time to sell.   Be attentive and helpful to approaching customers.   When you make a sale, be sure the packaging continues your branding.   Finally include a hang tag or business card where the customer can order more.