What is a T-Shirt Printing Webinar?
We want you and your t-shirt printing business to grow and succeed. Whether you are just starting out as a t-shirt printing hobby, want to grow you hobby into a business, or are already in the apparel decorating industry as a full time t-shirt business, we provide education continually to help get you to the next step. One way we provide education is through t-shirt printing webinars.
"What is a webinar?", you may be asking yourself.
A webinar is an online class or seminar, where you can learn about a particular topic. In this case, webinars all about t-shirt printing.
Webinars have become popular more recently in the last few years, especially with more people working from home and less people travelling in person.
However, webinars have been around for years before that. In fact, Transfer Express has been doing webinars for well over a decade, providing all kinds of educational content for running and growing a t-shirt printing business.
We've covered a large array of topics over the years, including how to photograph your t-shirts, how to save on print costs, printing licensed logos, how to position transfers, marketing strategies, printing mistakes to avoid, how to price your custom apparel, social media tips, and SO many more!
Which, by the way, all of these are available on our site and YouTube channel.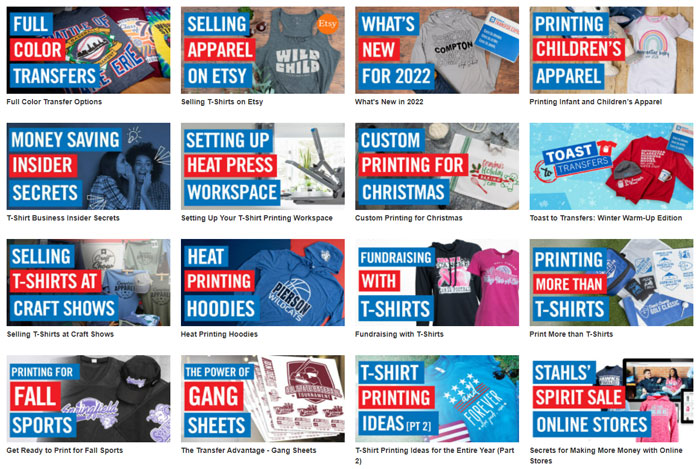 Webinar Schedule and Formats
Our webinar schedule is pretty consistent so you can plan accordingly to attend live.
We host two webinars a month, usually on the second and fourth Thursdays of the month. Sometimes it may vary to accommodate other live education sessions we are holding such as Facebook lives, or YouTube lives.
They are always at 2 pm Eastern time.
These live monthly webinars consist of a slide presentation, and sometimes a live demo of one of the tools on our website, such as the Easy View online designer or pricing calculators.
In terms of duration, the webinar will last anywhere from 45 minutes to an hour and a half, depending on the depth and complexity of the topic for that session.
Another benefit of the webinars, and attending live, is that you can ask questions the entire webinar. There is always a live chat where attendees are encouraged to ask questions. Your questions are answered live on the spot.
The other great thing about the chat feature is that you can interact with other people in the t-shirt printing business and learn from their questions, too.
Plenty of times we've seen people ask questions and then others will speak up saying that's something that they never would have thought of to ask.
So you can also benefit from seeing what other people are asking.
Sometimes you may be ready with a question you brought on the webinar topic. While other times, questions may arise during the presentation.
Toast to Transfers Webinar Series
Besides the slide presentation format of our regularly scheduled monthly webinars, we also do a live, on-camera presentation.
This series of webinars is called Toast to Transfers. We host these about every other month.
The Toast to Transfers live webinars are held in the evenings.
The format is based on a "wine and paint night" type of experience, where attendees can pre-purchase a kit to press along with us during the event. The kit contains the same blank garments and transfers that we use to print during the presentation.
It is a perfect way to get guided, hands-on training for those seeking that type of education.
It is not required to purchase the kit, though. You can also register to attend the webinar just to watch and learn as well.
Toast to Transfers is more of a relaxed environment where attendees have their favorite beverage alongside with them, to model the whole "wine and paint" night feel.
During these sessions, questions are encouraged, too. Attendees have the opportunities to press along and ask questions as if they are getting one-on-one help.
Feedback on these events has been very positive and most attendees come time and time again.
The other benefit to this format and the kit is we try to teach a new skill for each session. Whether it's a different placement technique, printing of a sleeve, on a hard-to-print item, or with a different type of transfer, you'll learn something new each time.
Most of the kits also come with a tool that you can continue to use for heat printing.
The kit also doubles as a way to print some items that you can then show to your customers as an example of what you can make for them.
So at the end of the evening, you've learned a new skill, made some display samples for your business, and had some fun in the process!
[Related Content: Join us for our Live "Print With You" Event-Toast to Transfers]
Knowledge is Power to Grow Your Business
With over 120 webinars recorded, there is no shortage of information for you to learn about printing t-shirts.
We've covered many aspects of running and growing your own t-shirt business. Each webinar comes with plenty of tips and tricks that you can implement immediately.
You can always go back and watch any of the previous webinars. See which ones interests you or learn an area you want to know more about to grow your t-shirt business.
Of course, it's always a great time during the live presentation to be present and active. Or, if you are busy at the time, just join us and listen in the background while you work.
Come join us and be a part of the heat printing community to keep learning trends, new transfer types, and ways to grow your business.
The continual increased growth of our webinars is a testament to the education and help they provide to attendees.
They are free to register and attend.
See the upcoming webinar schedule and we hope to see you at the next one!