Where to Get Help with Heat Printing and Transfers
Whether you are new to heat printing with transfers or a seasoned veteran, there are always questions that can pop up.
Maybe it's a piece of complex art that you've never dealt with, or dealing with a garment type that you've never seen before.
Maybe you're still trying to decide what kind of heat press to buy.
No matter what it is that you need help with, we have you covered.
Sometimes it's confusing on where to go when you need help, though. So this guide is to help you get help. 🙂
This might be a great page to bookmark… wink wink 😉
Consult this guide when you need help with:
choosing a transfer type
choosing a heat press
designing in Easy View
apparel fabric types
uploading your own artwork
placing an order
an order you already placed
transfer applications
growing your t-shirt business
Help with Choosing a Transfer Type
There are lots of different heat applied transfer types, so we understand it can be confusing on which one is the best transfer for your particular printing job.
There are screen printed plastisol ink transfers, screen printed water based ink transfers, full color digital transfers, rhinestone transfers, etc.
Each has its' own specialty and time and place.
When trying to decide which transfer type to use, you need to know the artwork (whether it is full color or 1, 2, or 3 colors, etc.), the fabric type you will be applying to, and the quantity you need. These will all help you to decide which transfer type to use.
Our interactive Transfer Selector Tool will do the rest for you.
Simply answer a few questions, and by the end, it will tell you which transfer type is best for the job you are printing!
Help with Choosing a Heat Press
Are you just getting started and don't have any equipment yet?
Or maybe you tried to start with a cheap import heat press and it isn't giving you the results you were looking for.
Either way, we have the materials to help you choose the best heat press that is right for you, your budget, and your business.
All of the heat presses in the Stahls' Hotronix line will give you reliable and quality results with every single press. You can't go wrong.
[Related Content: Starting a T-Shirt Business: How to Choose a Heat Press]
Help with Designing in Easy View®
Easy View is an easy-to-use online designer that helps anyone create artwork for t-shirts, hoodies, bags, and anything that will fit in your heat press really.
You don't need any design experience. Easy View makes you an artist even if you can't draw a stick figure.
The tools are pretty straight-forward and we tried to make it as easy as possible.
However, sometimes it can be a little confusing at first and you may be wondering what all Easy View can do.
We have lots of training available for Easy View, in the form of short video tutorials, a video course, a series of Q&A sessions, or a step-by-step guide to help you learn everything you need to know about Easy View, depending on how you learn best.
[Related Content: 8 Ways Easy View Can Help Your Apparel Business]
Help with Apparel Fabrics
Sure, you'll always have your cotton and polyester shirts as a staple for most custom apparel orders.
However, there are many other fabric types out there on the market, and most of them are becoming very popular.
With compression fit performance wear, athleisure everywhere, and the trendy fashion triblend shirts, you're bound to get customers wanting a variety of these fabrics containing rayon, spandex, nylon, lycra, and even materials like bamboo.
Bamboo?! Yes, that's right.
But don't worry.
Our ebook on fabric types lists out dozens of fabrics – from the standards, popular, and obscure, and tells you exactly which transfer type will work best on each material. There is no guess work needed.
Help with Uploading Your Own Artwork
When you have your own artwork you would like printed, use can use our upload page here.
Fill out as much as you know about the artwork and the transfers that you would like to order.
If you are unsure of any of the information or need help, there is a box you can click to check in step 2 – "I am unsure of all the details needed and would like some help".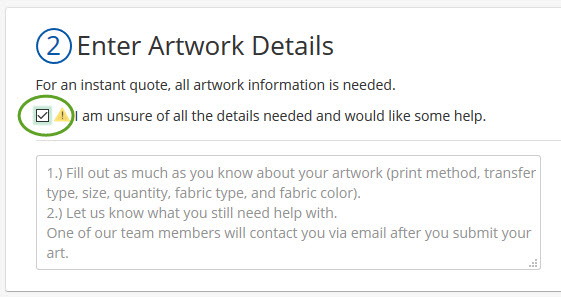 Once you click on the box, fill in as much of the information as you can and let us know what you still need help with.
One of our team members will contact you via email to help you with your questions. (Be sure to check your spam folder if you do not receive an email.)
[Related Content: Screen Printed Artwork Guidelines]
Help with Placing an Order
When you are trying to place an Easy Prints® order in Easy View, or placing a name, number, or other stock transfer order and you need help, there are a few different routes you can take.
For immediate help, you can utilize our chat option. Click on the "Live Chat" link in the upper right hand corner in the top blue bar. This is an instant messenger service with one of our live chat team members.
You can also call customer service at 1-800-622-2280 or email us via our contact page.
Using any of these options, someone on our team will be glad to help you out with your order.
We also have a video library, a Help Center, and an extensive blog – all with answers to the top questions. Just use the search bar in the top header of the website to search for what you are looking for.
Help with an Order You Already Placed
Do you need help with an order you already placed and received?
When you have questions about your transfers or are having an issue, you can use the Resolution Center in your account online.
First, log in to your account on the website.
In the upper right hand corner, click on your company name.
In the dropdown menu, choose Resolutions.
Then you can click on the "New Resolution" button.
Help with Transfer Applications
If you already have your transfers and you need help with the application process, first check your shipment of transfers. Each order comes with the application instructions specific to the transfer type that you ordered.
If you lost the application instructions that came with your order, they are also available on our website.
We also have video instructions for our application instructions. If you would rather watch a short video on how to apply your transfer type, you can view all of the application videos here.
If after reading the instructions and watching the videos you are still unsure how to heat apply your transfers, you can always contact us for help.
If you are having application issues, please let us know what kind of heat press you are using, the transfer type, and each of the steps you are using to heat apply, so we can help troubleshoot your issue.
Did you know that 80% of application issues arise because of your pressure? Watch this video to see why your heat press may be causing pressure or temperature issues.
Help with Growing Your T-Shirt Business
Whether you are brand new to the t-shirt printing industry or have had your business for a while, it can be difficult in getting new customers and growing your business.
We cover how to grow your t-shirt business frequently on our blog. We also have recorded webinars you can watch that give tips and tricks on growing your apparel business.
It is our mission to help you grow your t-shirt business. We recognize that we are only successful when you are success as well.
[Related Content: 10 Marketing Ideas on a Budget for Your T-Shirt Business]
General Help
When in doubt, you can always contact us and we'll point you in the right direction.
You can always search our site or our blog, as well. There is lots of educational information on heat printing and heat applied transfers.