3 New Track and Field Designs are Loaded in Easy View! Here's How to Customize Them
Runners, take your mark! We added new track and field designs for you to customize for apparel!
You heard that right, there are 3 brand new design layouts to play and get creative with — as well as some fun new full color clip art from our friends at Great Dane Graphics.
We're revealing the new designs in this blog to help you create professional artwork and tips get grow your sales through track and field:
New Track & Field Layout Designs for Team and Fan Apparel
To give you even more professional designs to use for your business, we are adding new layouts weekly to the Easy View® online design center at Transfer Express. These design layouts give you ready-to-customize quality artwork. Therefore, you don't need any prior design knowledge to get started. Even complete graphic design newbies can create beautiful t-shirt designs!
Finally, we will then turn your finished design into heat transfers that are ready-to-apply to any blank apparel.
And without further delay, the new track and field layouts are here!
You can find the brand new layouts in Easy View — alongside thousands of other design layouts and clip art for you to use.
To access the new track layouts, all you need to do is open Easy View, select Add Layout. From there, choose the Track category from the Sports section.
From here, you can scroll through to discover these new design options:
Or by searching the layout ID below.
Want to see more designs? Subscribe to our blog to stay tuned in to new design layouts added to Easy View®, as well as our top tips on how to customize them: New Layout Designs, Ideas. and Tips: 
New Layout Design #1: Track & Field Shield QTK-113
Your local schools are looking for custom track apparel. Therefore, you can use your skills to create track team uniforms, warm-ups and fan apparel. The schools usually do not have their own designs ready. So they rely on you to create a professional looking design with their school name and mascot.
The new Track and Field layout
QTK-113
, will create the perfect design for track shirts whether at their home field or at a track meet. Simply change the text, colors, and if you wish, change the clip art as well!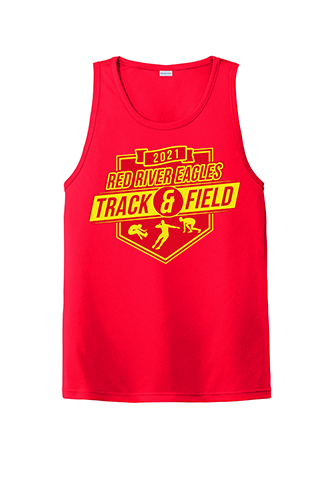 Once your design is created just how you like it using your favorite ink colors, place your heat transfer order.
Then, decorate apparel using your heat press like this Sport-Tek ® PosiCharge ® Competitor ™ Tank ST356 in True Red.
TIP:  Simply swap the Clip Art and change it to a different clip art. This will open up new customers to design for like baseball or swimming.
New Layout Design #2: Track & Field QTK-112
The next track design is sure to be on the Best Seller's list this spring sport season.
Layout QTK-112 he perfect layout design you can customize with bold text and simple track clip art in the background. Not only can you change the text, in addition, you can add your favorite colors for your design to be printed in plastisol or waterbased screen printed ink.

New Track Layout Design #3: Vertical Track and Field  QTK-111
You will find new layout QTK-111 ready to customize in Easy View, in addition to the new layouts we just showed you.
While designing, keep it as is or put your personalized touch on the design with your own colors and fonts.
BONUS Clip Art: Full Color from Great Dane Graphics
We're on a roll! In addition to the three new design layouts above, we've also given you another FIVE bonus clip art from our friends at Great Dane Graphics!
These are not just any ordinary clip art. Artwork from Great Dane Graphics gives you bright, full color design options to use for your heat transfer designs.
Like our other clip art, these colorful graphics can be added to any Easy Prints® design layout in Easy View to create the perfect design for your customer.
Simply search for the clip art ID number below in Easy View. Alternatively, browse all clip art from Great Dane Graphics by selecting Add Clip Art and then choose the Full Color/ Great Dane Graphics category.
Are you a fan of of Transfer Express' latest layout options? Join the conversation over on Transfer Express' Facebook channel!
Like to stay on top of all the latest trends and feature releases? Subscribe to Transfer Express' blog for all the latest heat printing news, tips, and more!