Awesome New Script & Tail Design Layouts Added to Easy View
The script and tail design has long been a popular staple for custom t-shirts.
Did you know you'll find the script and tail design most commonly on baseball apparel?
However it's not just baseball uniforms where we find a script and tail design and more often these days, the classic design is making it's way into more styles of apparel.
So how do we take the once sporty script and tail and modernize it for today's popular looks?
We asked our graphic designers to give us 3 new layout designs to take the ordinary script and tail to the next level!
​
Introducing Your New Script and Tail Layout Designs
New layouts are being added weekly to the Easy View® online design center. And this week is no exception! You don't even need to be a graphic designer to create professional designs using this design tool and layouts.
Even if you are a graphic design newbie, you can create beautiful t-shirt designs!
Your finished design is then, turned into heat transfers. Then is finally ready-to-apply to any blank apparel.
Get ready to see your new script and tail layouts!
The brand new design layouts can be found in Easy View — alongside thousands of other design layouts and clip art for you to use.
To find these new layouts in Easy View.  First, select 'Add Layout'. Next, choose the Script & Tail category from the Sports layout section.
From here, you can scroll through to discover these new design options:
New Script and Tail Design Layout #1:  Fancy Swirls QAL-638
New Script and Tail Design Layout #2:  QAL-637
QAL-637  Canfield Next Level™ Unisex PCH Fleece Pullover Hoodie NL9300
New Script and Tail Design Layout #3:  Elegant QAL-639
QAL-639 Signature  Sport-Tek® Ladies PosiCharge® Elevate Scoop Neck Tee LST380
BONUS Clip Art: New Clip Art from Great Dane Graphics
We are just getting started! In addition to the 3 new designs above, there are FIVE new bonus clip art from our friends at Great Dane Graphics!
These are not just any ordinary clip art. Artwork from Great Dane Graphics gives you bright, full color design options to use for your heat transfer designs.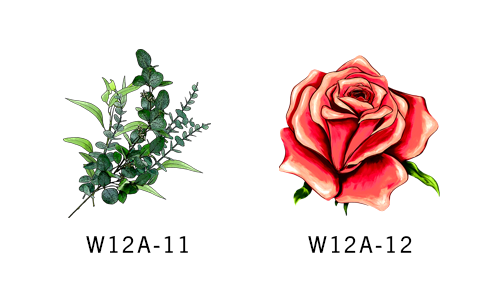 Like our other clip art, these colorful graphics can add to any Easy Prints® design layout. Use Easy View to create the perfect design for your customer.
You can search the clip art ID number below in Easy View. Or you can also browse all clip art from Great Dane Graphics. To do this, select 'Add Clip Art' and then choose the 'Full Color/ Great Dane Graphics' category.
What do you think of Transfer Express' latest layout options? Join the conversation over on Transfer Express' Facebook channel!
Like to stay on top of all the latest trends and feature releases? Subscribe to Transfer Express' blog for all the latest heat printing news, tips, and more!