Business Tips from Industry Leaders
We are excited to present the second episode of Heat Press Transformation. In this series, industry experts Marshall Atkinson and our own Dave Conner visit successful t-shirt businesses to not only see what they are doing well but also how can they improve.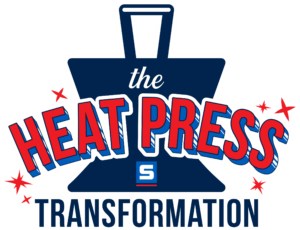 In this segment, we visit Justin Leader from JC Pro Design in Salt Lake City, Utah.    Justin started his businesses just like most of you as a home business with a silhouette cutter and a heat press.   In just 7 years he has expanded into a full-service decorator offering screen printing, heat printing, direct to garment, embroidery, banners, vehicle wraps and signs.   A complete print shop with over a dozen employees!
Justin talks about his number one asset and challenge, finding the best employees for his team.  You will want to hear about two easy to accomplish things he does for his team.   He at one time literally walked in their shoes when he did the work himself.
You will also see how his heat press department fits into the total picture even with all of the different options he offers   He uses  the Hotronix Dual Air Fusion, 360 IQ Hat Press and the Hotronix Auto Open Clam. He will talk about the difference interchangeable platens makes when using these presses.
Justin prides himself in not being afraid to adapt new technology adding UltraColor Max DTF transfers to his often-used Goof Proof  transfer choice.    In the video we also bring in top salesman Danny Marcario to demonstrate the Tag Along HP Quick Change Platen, a technology JC Pro had not tried.
Watch the entire video here and tell us what tips have worked for you.