When to Use Full Color Digital Transfers for Heat Printing
Full color digital transfers have their specialized time and place in the arsenal of heat applied transfer options for heat printing custom apparel.
With so many different types of heat applied transfers available, how do you know which type of transfer to use?
In this guide, we are going to go over when to choose a digital transfer and how to determine that you should go the digital transfer route.
What are digital transfers?
A digital transfer is a heat applied transfer used for apparel decorating that is printed using the CMYK full color process and palette of colors.
There are different methods of printing a full color digital transfer.
Instead of using the traditional screen printing method to print the transfer, some digital transfers are printed onto a vinyl substrate.
So digital transfers can be a printed vinyl heat transfer.
Our CAD-PRINTZ® full color transfers are created this way. It is known as a print and cut system.
The design is printed onto a thin vinyl material and then the design is cut out to the shape of the artwork.
The other way that we offer full color digital transfers is through a hybrid type of heat transfer. Our Stretch Litho™ is digitally printed onto the transfer backing substrate and then backed with screen printing.
Both options will give you a full color print, with lots of color, gradients, and shading effects.
When should you choose a digital transfer option?
Digital transfers are great to use when you have a full color design, such as a photographic image. If your artwork has any shading or gradient effects, you will want to choose a full color digital transfer.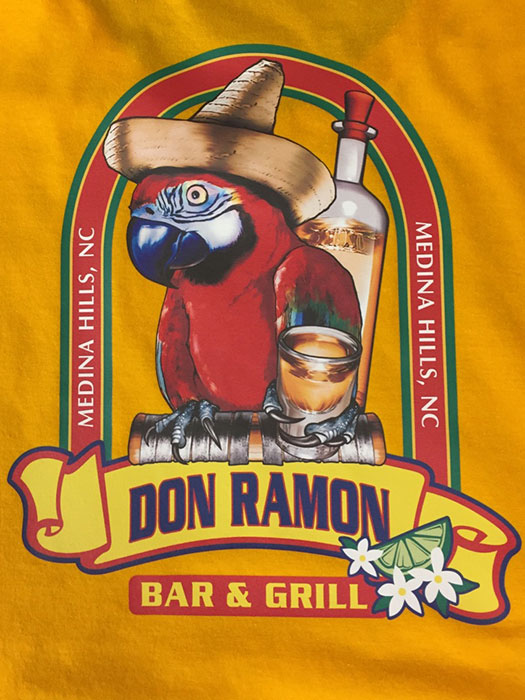 Gradients are when colors of the artwork blend together, from one color to the next.
Even when your artwork may not have gradients or shading specifically, you may still want to choose a digital transfer if you have more than 3 colors in your design.
Since screen print pricing is dependent on the number of colors, the price for a digital transfer may be cheaper since pricing for digital transfers is not based on the number of colors.
Instead, pricing for our CAD-PRINTZ digital transfers are based on the image size, or square inches.
These are purchased by the individual image and not the sheet.
However, our Stretch Litho full color transfers are priced and sold by the sheet. These are still not priced by the color, but instead, by the number of sheets.
You can fit as much as you can onto the 11.25" x 14" sheet, just like you can for screen printed transfers.
When your artwork is between 1-3 colors, other factors to consider when choosing between screen printed transfers or digital transfers is the size of your image and the quantity needed.
This will help determine the pricing and then you can see which choice is more economical.
If you have a small quantity and small image size, then digital transfers may be more cost effective.
If your image is large and you need lots of them, screen printed transfers will probably be the transfer to choose.
You can easily compare pricing for each transfer and job using our price calculators.
Advantages of digital transfers
With CAD-PRINTZ digital transfers, you can heat print on virtually any fabric with as many colors as you would like. CAD-PRINTZ Soft Opaque is the most versatile digital transfer and can be applied to spandex and nylon materials, in addition to the normal cotton, polyester, and cotton/poly blends.
Apparel decorators are realizing they can say "yes" to any print job by using this product, for even detailed and colorful designs.
Even if there is shading and special effects, digital transfers will be printed to your exact artwork. If your customer brings you a sketch or drawing, it will be printed exactly as is.
Digital transfers are printed using our artwork out of the Idea Book™ or by using your own custom artwork.
There are no quantity minimums with CAD-PRINTZ. (There is a $25 minimum, however.)
Don't worry about how many colors you have in your artwork because pricing is based on size and quantity.
Get started with full color digital heat transfers
If you do have your own artwork, you can upload the design on our website. Once your order is placed, the turnaround time is only 2 days!
Get samples of CAD-PRINTZ or Stretch Litho.