Show Your Local Pride with New T-Shirt Design Layouts
Home is where the heart is.
Home could mean the United States of America, California, South Dakota, Nashville, Springfield or even small local towns like Rockwell Valley. No matter where you or your customer's consider "home", people take a great deal of pride in where they come from, where family members come from and even places they visit. There's no better place to show that local pride then on a shirt.
We've got you covered when it comes to finding the right design to give you that hometown look. Our graphic designers have released new Easy Prints® layouts for you to customize and spread the local love!
So help those customers show off their love for their home and heat print onto t-shirts, hoodies, blankets, tote bags, pants and more. All it takes is a little creativity using the Easy View® online designer and you can offer professional screen printed apparel in seconds showcasing city and state designs.
Start with layout QPR-30 for the classic Home Grown Script design! A great design to tie America's baseball past-time with the Script & Tail, with a vintage hometown feel of the Distress in the screen printed ink.
Our new favorite Local Pride shirt we must have is QPR-31! "Just a Small Town Girl" can be customized in so many ways in the Easy View Online Designer. Change the state clip art…city name….and colors, and this design will work where ever your customers call home.
American pride across the United States is strong! No matter what state or city you live in, the new design QPR-33 (below) can be customized for your customer's t-shirts and apparel. Featuring a open winged Eagle clip art and shield layout, and plenty of text lines to change to your own, this design will be a favorite for patriotic apparel, especially around holidays like Labor Day, Memorial Day and Independence Day (July 4th).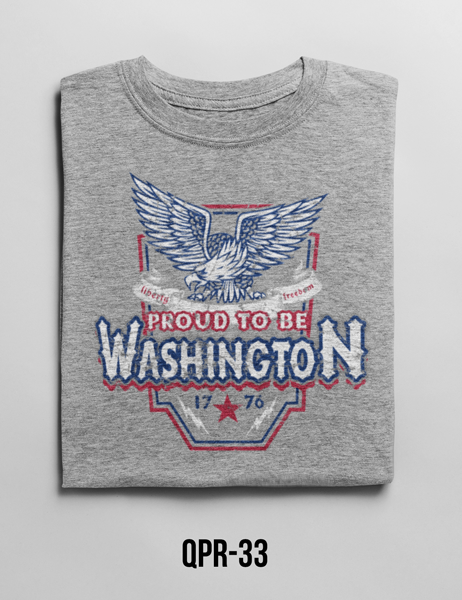 Showcase your state outline with this new local pride layout, QPR-34. In the Easy View Online Designer we have every US state outline for you to customize this design. Change the text "Drink Local Michigan" to whatever your needs are.
Creating local pride apparel with these new layouts is so easy! Browse more city pride layouts and sign up with Easy View to start customizing for your city's biggest fans. Then head over to our site to start your 30-day free trial. Choose any of the layouts or the new one above and start customizing. Once you're done, order the heat transfers from Transfer Express and heat print them onto your blank apparel!
Connect with us on Facebook to see more ideas and inspiration for heat printing apparel!
Subscribe to our blog for more layouts and clip art being added each week like these  designs!