New Design Layouts to Customize for Spring Sports Apparel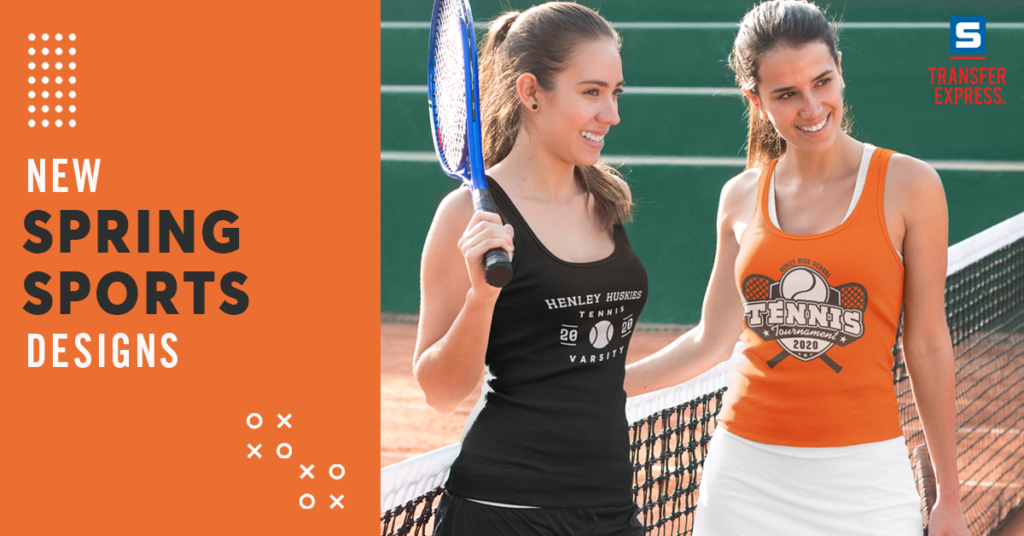 As winter is coming to an end, spring is right around the corner as Punxsutawney Phil predicted Spring to come sooner than later! That's good news for apparel decorators in getting leagues and teams set-up and apparel sales started early.
This week, we've added new designs to the Easy View Online Designer to get you started on created spirit wear, team uniforms and other apparel items to sell for Tennis, Lacrosse and Golf.
Tennis teams provide ample opportunities for sales, from uniforms and warm-ups to practice and spirit wear. We created new layout QTS-84 to be more of a team spirit design for practice and warm-ups. Also, customization for any sport is a snap by just swapping out the ball.
Tennis tournaments are a great place to sell customized apparel. Create a design special for this year's tournament with this new layout available now, QTS-83 shown above. The shield design with cross rackets, and tennis ball in the front is the perfect layout for a team tournament. Choose your ink colors from any of our stock screen printed ink colors to match the team colors. You'll be able to heat apply these screen printed transfers using the new QTS-83 design to t-shirts and polyester shirts like this Augusta Winning Streak Crew, 1090ASG. For polyester, choose  a transfer with a low temperature application like Elasti Prints® screen printed transfers.
For the golfers out there, our new layout QGL-67 can serve a few different purposes. Because golf is such a widely played sport outside of a team environment, we created something versatile. Use it for league shirts, logos, hats and towels, in addition to team uniforms. Tournaments and golf outings are another great use for this design.
Lacrosse is one of the fastest growing sports in the United States, although it's always been pretty popular here in Northeast Ohio. As a result, we are striving to make our Lacrosse artwork reflective of current trends and needs. From uniforms and workout gear to spirit wear and tournament shirts, customize layout QLS-74 or QLS-75 for any event or function.
You have your new Track and Lacrosse t-shirt designs, you have your custom t-shirt designer, and you have your custom transfer source– now it's time to get out there and get these spring sports sales!