New! Heat press leg and sleeves using these 3 brand new design layouts
So you thought you could only heat press t-shirts? That is simply not the case, fortunately.
Amazingly, your heat press has the power to go beyond the t-shirt and can also decorate pant legs and shirt sleeves.
Yes, it's true. If you can get it to lay flat and it's fabric, you can likely heat press it!
Now,  you have 3 brand new designs were released that are perfect for the leg or the sleeve. Ultimately, you will love them!
Oh and we forgot to mention, there's also bonus clip art we added this week too from our friends at Great Dane Graphics.
Introducing New Leg and Sleeve Design Layouts
New layouts weekly are added to the Easy View® online design center at Transfer Express. To get started, you don't need any design knowledge or skills.
Even complete graphic design newbies can create beautiful t-shirt designs!
Your finished design is then, turned into heat transfers. Then is finally ready-to-apply to any blank apparel.
And now, the new leg and sleeve design layouts are here!
The brand new leg and sleeve layouts can be found in Easy View — alongside thousands of other design layouts and clip art for you to use.
You will find the new leg and sleeve layouts in Easy View. select Add Layout. From there, choose the Leg/Sleeve category from the Basic layout section.
From here, you can scroll through to discover these new design options:
New Leg/Sleeve Design Layout #1:  QLG-99
Introducing the first leg or sleeve design!
Customize layout QLG-99 in Easy View with your own text and create your heat transfer design. N
Next, order your heat transfers using the best type of transfer for the fabric. For instance, we customized this design for black Ogio® leggings that contain spandex, using UltraColor Stretch transfers.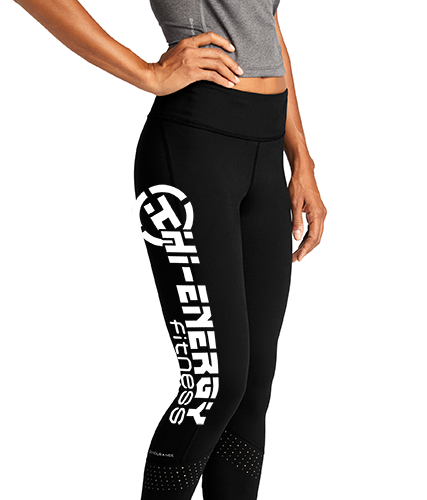 TIP: Our helpful customer service and useful selection tools to help you choose the best transfer, if you are not sure. Try the handy Transfer Selector Tool at the top of our blog. 
New Leg/Sleeve Design Layout #2:  QLG-101
We are so excited to share with you this next leg or sleeve design, which is perfect for cheerleaders!
The new layout QLG-101 features a cheer bow clip art above a sideways vertical line of text that reads CHEERLEADER.
You can customize this design in Easy View with the school name or abbreviation, just like we did below. Then, you can add the school or team colors for us to print for your transfers.
This design looks great on these jogger style fleece pants by Alternative®. These super soft pants can be found at Transfer Express Apparel and can easily be decorated with your heat press and Goof Proof screen printed transfers.
TIP: To easily heat print pants, lay them flat on the heat press or use a Leg and Sleeve platen for Hotronix® heat presses.  
New Leg/Sleeve Design Layout #3:  QLG-100
Try this new layout with your text and colors before you go and design from scratch.
Whether it is for a sleeve design or a pant design, layout QLG-100 is perfectly fitting. It is important to size your design appropriately for a shirt sleeve or pant leg. For instance, when designing for a shirt sleeve, we recommend a size of 2″ x 11.25″. Whereas a pant leg can be larger, like 2.5″ x 14″.
Now this is a recommendation and your transfer design can be sized to fit your apparel or your customer's needs. Above all, the best way to size your design is to measure the print area on your apparel item to be sure your design looks perfect for your customer.
You can find more design sizes and placements on our website at Transferexpress.com.
Layout QLG-100 shown below on Port & Company® Fleece Joggers from Transfer Express Apparel.
BONUS Clip Art: New Clip Art from Great Dane Graphics
We are just getting started! In addition to the 3 new designs above, there are FIVE new bonus clip art from our friends at Great Dane Graphics!
These are not just any ordinary clip art. Artwork from Great Dane Graphics gives you bright, full color design options to use for your heat transfer designs.
Like our other clip art, these colorful graphics can be added to any Easy Prints® design layout in Easy View to create the perfect design for your customer.
Not only can you search the clip art ID number below in Easy View,  but you can also browse all clip art from Great Dane Graphics by selecting 'Add Clip Art' and then choose the 'Full Color/ Great Dane Graphics' category.
What do you think of Transfer Express' latest layout options? Join the conversation over on Transfer Express' Facebook channel!
Like to stay on top of all the latest trends and feature releases? Subscribe to Transfer Express' blog for all the latest heat printing news, tips, and more!