New Layouts to Customize for Autism Awareness T-Shirts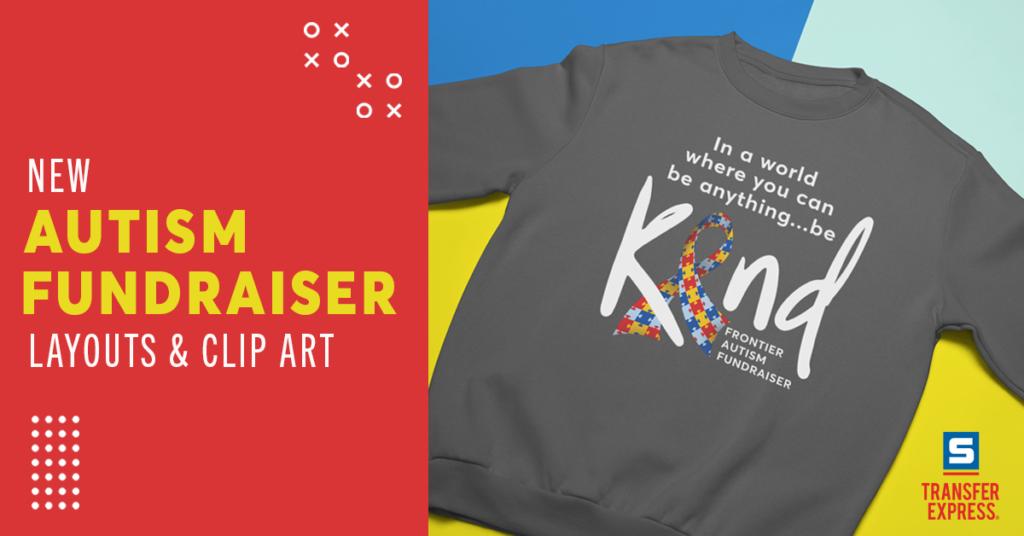 One of the rewards of having an apparel business is the ability to make an impact by supplying your customers with t-shirts for fundraisers, along with other promotional items. April is Autism Awareness month and many of your customers may be looking for T-shirts for the various events. To help you create professional artwork for autism awareness shirts, we've added 3 new layouts to the Easy Prints® layout collection for you to customize.
Autism Awareness uses the puzzle piece as a symbol for the struggle against autism. This symbol reflects the mystery and complexity of the autism disorder. You will find this puzzle symbol throughout these new layouts.
First added to Easy View this week is Easy Prints Layout QFD-67, shown below on a Port & Company® Tie-Dye Tee (PC149). This design features a puzzle piece with a strong heart clip art as the focal point of this design. Customize the circle text with the name of your fundraiser and choose your favorite ink colors.
The "I Love Someone with Autism" design Layout QFD-68 is a perfect design to sell at a local or national fundraiser. This design can be printed using many colors like on this District ® Very Important Tee® (DT6000) and will be great with Stretch Litho Matte full color heat transfers. With these digitally printed heat transfers your design can be full of colors including the very colorful puzzle pieces.
Whether you're decorating for a run/walk fundraiser, a raffle or another type of Autism Awareness fundraiser, you'll be able to create a design everyone will love. The "Autism – Be Kind" Layout QFD-69 promotes kindness and gives motivation to attendees of the fundraising event. This design can be customized with the event name or sponsor name and heat printed onto popular apparel items like this Gildan®  Crewneck Sweatshirt (12000). With Stretch Litho Matte heat transfers, you can heat press the transfers to any color (light or dark) that is cotton, polyester or cotton/poly blends.
Creating fundraiser shirts for Autism Awareness month with these new layouts will help raise money for your customer's next fundraiser! Browse more fundraiser layouts and sign up with Easy View to start customizing for your heat transfers. Then head over to our site to start your 30-day free trial. Choose any of the layouts or the new one above and start customizing. Once you're done, order the heat transfers from Transfer Express and heat print them onto your blank apparel!
Connect with us on Facebook to see more ideas and inspiration for heat printing apparel!
Subscribe to our blog for more layouts and clip art being added each week!