New St. Patrick's Day Layouts in Easy View
We added all new St. Patrick's Day layouts for you to customize in Easy View online designer!
St. Patrick's Day t-shirt design can be tons of fun. So many different kinds of events revolve around this holiday- parades, 5K and 10K runs, and pub crawls to name a few. And our new St. Patrick's Day art has you covered for any custom apparel order!
We added 5 brand new design layouts to get creative with – as well as some fun new full color clip art from our friends at Great Dane Graphics.
We're sharing all the details in this blog post!
Introducing the New St. Patrick's Day Apparel Designs to Customize
We add new design layouts weekly to the Easy View® online design center at Transfer Express. These layouts give you ready-to-customize professional designs without any prior design knowledge. Even complete graphic design newbies can create beautiful t-shirt designs using these layouts!
We will turn your finished design into heat transfers that are ready-to-apply to any blank apparel.
You'll find the new layouts in Easy View — alongside thousands of other design layouts and clip art for you to use.
To get to the new design layouts, all you need to do is open Easy View, select Add Layout. From there, choose the Occasions section and browse the Holidays category.
From here, you can scroll through to discover these new apparel design options.
New St. Patrick's Day Layouts in Easy View
Create your own unique St. Patrick's Day t-shirt designs using design layouts and clip art that are ready to customize with your group or event name. Try this new St. Patrick's Day layout QHL-137 we just added!
Photo below: District ® Perfect Tri ® Long Sleeve Tee DM132 in Military Forest Green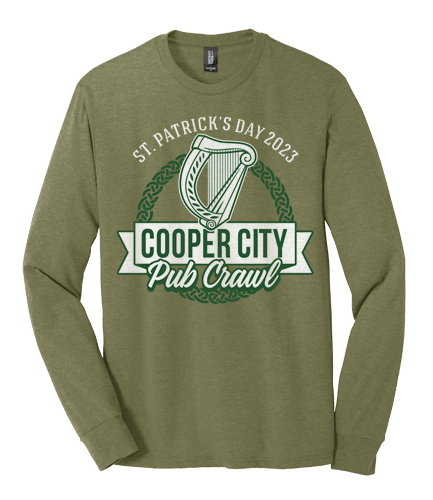 We also added new layout QHL-153 pictured below on a American Apparel® Fine Jersey Tank 2408W in Black.
Tip: Add color to your design to make it pop! One or two color designs are great for screen printed transfers. More than 3 colors, choose full color transfers like UltraColor® Max or UltraColor® Pro. 
Next we added this Easy Prints layout QHL-154!
Photo below: Port & Company® Core Fleece Crewneck Sweatshirt PC78 in Dark Green
Get the party started with this fun, St. Patty's Day design QHL-156. Customize the text and colors for your customer's event. It's easy to customize this design special for your customer. Just swap out the clip art for any of our other Easy View® clip art. This layout would also be perfect for all kinds of school or sporting events- just by changing up the clip art!
Photo below: Port & Company® Core Cotton Tee PC54 in Ash
Print in full color with this full color St. Patrick's Day designs 3D-553! Perfect for UltraColor Pro or UltraColor Max heat transfers, this design gives you bright colors without the per color price of other printing methods.
Photo below: Gildan® – Youth Heavy Cotton™ 100% Cotton T-Shirt 5000B in Daisy
BONUS Full Color Logo Clip Art: Full Color from Great Dane Graphics
Did you love the new design layouts above? We are just getting started! In addition to the 5 Designs above, there are bonus full color clip art from our friends at Great Dane Graphics!
Artwork from Great Dane Graphics gives you bright, full color design options to use for your heat transfer designs.
Add these colorful graphics to any Easy Prints® design layout in Easy View to create the perfect design for your customer.
These full color graphics make it easy to create bright, colorful designs for heat transfers like UltraColor® Max and the new UltraColor® Pro.
To design and order your digital heat transfers, simply search for the clip art ID number below in Easy View or browse all clip art from Great Dane Graphics by selecting Add Clip Art and then choose the Full Color/ Great Dane Graphics category.
What do you think of Transfer Express' new trending apparel designs to customize ? Join the conversation over on Transfer Express' Facebook channel!
Like to stay on top of all the latest trends and feature releases? Subscribe to Transfer Express' blog for all the latest heat printing news, tips, and more!