Tee's the Season: Christmas T-Shirts
The t-shirt, now more than ever, is the most popular item in your wardrobe. For this reason, this is a great time to capture Christmas holiday sales with fun Christmas t-shirts and sweatshirts.
There are plenty of events happening around the Christmas season that people buy Christmas shirts for.
Even if it is just a fun, festive purchase, people like to be in the Christmas spirit and wear Christmas themed apparel with holiday phrases or funny designs.
According to Forbes, holiday sales hit $876 billion in 2020.
As an apparel decorator, if you have an online Etsy store, or some other ecommerce website to sell shirts, here is your chance to get in on the holiday selling. (Spoiler alert: and if you don't have an online store, we have a solution for you.)
In this post, we're going to give lots of ideas and inspiration for Christmas t-shirts that you can sell, and then also some "hacks" that will allow you to save money and print them.
Matching Family Christmas PJ's and Shirts
Sell entire family matching pajamas. These are extremely popular during the Christmas season. They make great family photos for Christmas cards, or photos of the kids all matching in Christmas pj's on Christmas morning.
Order a t-shirt for the top and flannel pants for the bottom. Customize one of our layouts (QHL-115) and print in red/black Goof Proof. The various size prints can all be done on the same gang sheet.
I love how the Buffalo plaid in the hat coordinates with the pants.
Hack: if you need 6 or more of the same last name, add it to the layout. Need another name? Use an arch Express name.
Apparel used:
Raglan T: DT6210/DT521011
Onsie: RS4430
Pants: DT1300
Festive Christmas Sayings
Nothing sells better that simple. Use a layout like QAL-635 and customize it to express the feeling of the season.
Simple words in a nice font work well, too. Some ideas: Merry & Bright, Believe, Ho Ho Ho, or just Merry Christmas, all are best sellers.
Big and Little Christmas T-Shirts
Who can resist a matching mother/daughter or father/son t-shirt set? For this reason, a very popular Easy Prints layout, QHL-111 is customized with the liquid of choice for both parent and child.
Hack: Pick a design that allows you to fit both a large print and a smaller print on the same gang sheet, so you only have to order one set of transfers instead of two separate orders.
Full Color Christmas T-Shirts
Add some color and use our fastest growing full color transfer, UltraColor Soft.
These transfers can be ganged and sold by the large 11.5″ x 18″ sheet size.
Hack: By getting the gang sheets, you can put different designs on the same sheet. Since UltraColor pricing is not affected by number of colors, you can add as many different full color images or 1 color images to the same sheet. The larger sheet size also allows for multiple larger images.
Baby Tees
So cute – Christmas t-shirts for the baby in the family. Using a 2 color Goof Proof gang sheet, all 5 of these designs were printed on one sheet.
Hack: for small apparel items, like onesies, with buttons and seams, use a mouse pad to raise your print area and avoid the obstructions to printing.
Funny Christmas T-Shirts
Between popular Christmas movies and quotes, puns, and the naughty list, there is never a shortage of funny Christmas shirt designs.
This is a popular category of shirts to wear around the holidays and holiday parties for both kids and adults. Since food is usually involved at Christmas parties, it's easy to print and sell apparel items that will be used during the party, in regards to food prep and usage, such as can coolers, aprons, wine tote bags, etc.
Hack: Since most of these types of items are smaller, you can fit all of these prints on one gang sheet.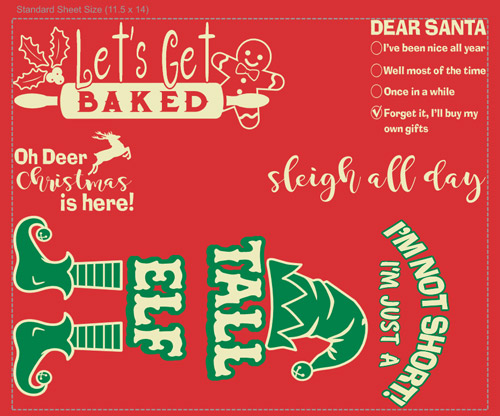 Selling Your Custom Christmas T-Shirts
Being able to sell your shirts online is key. Whether you are promoting and selling on social media platforms like Facebook, or if you have a dedicated website or Etsy store, online sales continue to grow year after year.
As we mentioned in the beginning, if you don't have an online selling platform, we have you covered.
Stahls' Spirit Sale is an ecommerce platform that allows you to get an online shop set up easily and quickly. Not only can you set up a specific store for Christmas t-shirts, you can set up webstores for all of your customers all year 'round.
Spirit Sale is designed so that you can set up a store quickly for each of your customers without spending the time and resources on creating an entire new website every time, but each store is separated so that it is specific for your customer. For example, set up a store for the local high school football team for them to get their teamwear. You can also set up another store for the baseball team. You can set up a store for a local fundraiser, or a family reunion.
The possibilities go on and on. It is an annual purchase to get Spirit Sale. There are no "per transaction fees" or extra costs depending on how many shirts or stores you have. You can have unlimited stores.
So setting up a Christmas store is a perfect solution to capture those holiday sales. Then promote your store on social media, with sales flyers to your current customers, etc.
You can create mock-ups and set up your stores in no time. A new store to reach each email list you have.
At each store, set an end date so you will have a good count, and get them all printed in time for Christmas. Next, use our fast, guaranteed turnaround and Speedy Air delivery for on time delivery.
Need more ideas? Download our free e-book, "Heat Transfers for the Holidays".