Choosing and Printing Hoodies
The cold has arrived, it is officially hoodie weather.    It is that time of year when t-shirt sales decrease and the custom printed hoodies rise to the top.   Heat printing hoodies can be just as easy as heat printing t-shirts by considering a few more factors.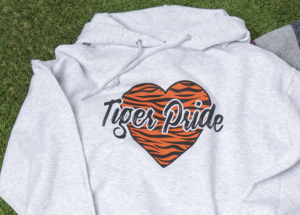 Wholesale Hoodie Brands
When selling apparel products, the good, better and best options is always a great place to start.    This way you get a feel for your customer's needs, wants and budget.
Popular "good" brands include Gilda, Jerseys, Port & Company, and Hanes.   Better brands include District, Sport Tec and Comfort Colors.    The best line includes Alternative, All made, Orio and New Era.
Hoodies will also have a weight on the description page.   This normally ranges from 6.5 to 10 oz., an average weight is 7-8 oz.    Some customer might want a lightweight hoodie that is great for layering, where another customer like a construction company might want a heavier hoodie that will be worn more like a jacket.  Hoodies are also available in 100% cotton, poly/cotton blends and 100% polyester and this choice will have an effect on your transfer options.
Designing Your Art for Hoodies
Because most hoodies have both a pocket and hood, your printing space is limited and you need to know this before your art is created. Easy view, our online design center, will help you get the right size.     Also when you print on a hoodie you will need to raise the print area and the tool you will be using to do this can also determine what size your art should be created.
When raising your print area when heat pressing, here are some common guidelines
Mouse Pad 9.25 x 7.75
Tote Master Platen 10 x 8
Print Perfect Pad 10 x 8
Also your customer's size choices should be considered.    For an adult small hoodie keep your print to a max of 10" tall x 11:" wide; for a youth small hoodie print to a max of 8" tall x 10" wide.    Like all heat printing you want to size your print to fit the smallest hoodie in your order to get the best quantity break pricing.
Choosing the Best Transfer Type for Your Hoodie
If you will be using a 1-2 color on a cotton or poly/cotton blend; your choice is Goof Proof.
If using a 1-2 color print on 100% polyester, your best choice is Elasti Prints.   Elasti Prints applies at a lower temperature which will decrease scorching.
If using 3 or more colors, or a full color your best choice is UltraColor Soft.
Tips for Printing Hoodies
As mentioned above, the print area will need to be raised so a firm, flat printing surface has been created.    This can be done with a mouse pad, an interchangeable platen or a print perfect pad.   Please do not use a printing pillow.   This is not firm enough to create the needed printing surface.   Raise only the print area so both the hood and the pocket will not be the first thing the upper platen of your heat press touches.
Also be sure to pull those hood strings out.  If left in the printing area, you will see them since you created uneven pressure.
With just these few extra steps your custom printed hoodies will hold up for a minimum of 50 wash/dry cycles with no cracking or wear.
Happy Pressing!