5 New Gymnastics and Dance Designs to Customize
In this blog post, we're introducing 5 new gymnastics and dance designs to customize!
There are endless types of apparel to decorate for Dance and gymnastics: team wear, warm-ups, tournament souvenirs, or even just fun cheer or dance sayings on t-shirts.
Many of teams or studios stick with their same logo on their apparel, occasionally, you might want to consider giving your customers a new look and feel to set them apart.
A fresh new design can impress your customer's and set your custom apparel apart from your competitors.
This year, Transfer Express designers came up with hundreds of new design layouts for you to customize. And this week, there are  FIVE new dance and gymnastics designs for you to customize in Easy View!
Introducing the New Gymnastics and Dance Designs for Apparel
New layouts are being added weekly to the Easy View® online design center.  These layouts give you ready-to-customize professional designs without any prior design knowledge. Even complete graphic design newbies can create beautiful t-shirt designs!
Next, we will then turn your finished design into heat transfers that are ready-to-apply to any blank apparel.
And now, the new Dance and Gymnastics layouts are here!
The brand new layouts can be found in Easy View — alongside thousands of other design layouts and clip art for you to use.
To access the new cheer and dance layouts, all you need to do is open Easy View, select Add Layout. From there, choose the Dance/Gymnastics categories from the Sport section.
New Dance Layout Design #1: 
If you're looking for a design with a WOW!-factor, this one is it. We love this new Dance layout QMS-230 that is a perfect t-shirt design for dance squads. Customize this design with the teams' name or event and even add bright colors like our stock neon ink colors.
New Dance Layout Design #2: 
If you're selling Gymnastics and Dance designs at competitions or simply for dance moms and fans alike, you are going to love this new Dance design, QMS-231
Stay tuned every week to discover new design layouts added to Easy View®, as well as our top tips on how to customize them: New Layout Designs, Ideas. and Tips: 
New Full Color Dance Layout Design #3: 
Full color heat transfers like UltraColor® Max or UltraColor® Pro are perfect for adding lots of colors to your designs. To get you started with creating a full color gymnastics design, we added new layout 3D-498.
New Full Color Dance Layout Design #4: 
The next full color layout 3D-497 for you has a rainbow of colorful text! Customize this design in Easy View® for fast turnaround of full color transfers and print quickly for your customers.
New Full Color Dance Layout Design #5: 
Last but not least is new Gymnastics layout 3D-496! This full color design features a halftone background with plenty of text to customize for dance or gymnastics events!
BONUS Full Color Gymnastics and Dance Clip Art: Full Color from Great Dane Graphics
We are just getting started! In addition to the 3 new Gymnastics and Dance Designs above, there are FIVE bonus full color clip art from our friends at Great Dane Graphics!
Artwork from Great Dane Graphics gives you bright, full color design options to use for your heat transfer designs.
Add these color graphics to any Easy Prints® design layout in Easy View to create the perfect design for your customer.
These full color graphics make it easy to create bright, colorful designs for heat transfers like UltraColor® Max and the new UltraColor® Pro.
To design and order your digital heat transfers, simply search for the clip art ID number below in Easy View or browse all clip art from Great Dane Graphics by selecting Add Clip Art and then choose the Full Color/ Great Dane Graphics category.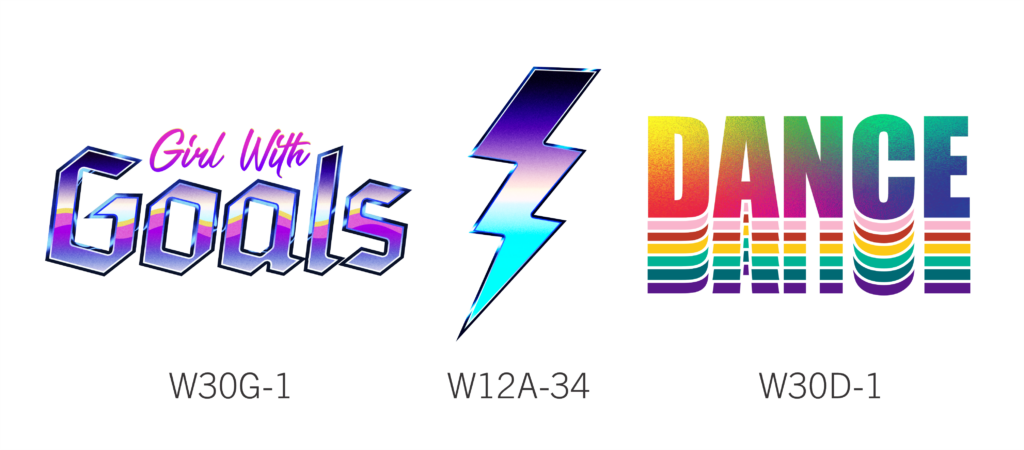 So, what do you think of Transfer Express' latest layout options? Join the conversation over on Transfer Express' Facebook channel!
Like to stay on top of all the latest trends and feature releases? Subscribe to Transfer Express' blog for all the latest heat printing news, tips, and more!