Easy Christmas Sales made with your Heat Press
Are you getting items ready to sell at a craft fair?   Or if you have a store front, are you ready for Christmas?     We created some unique ideas using custom transfers and your heat press to help with those sales.
Pillows
Use your custom transfers to make decorative pillows more personal to your market then what your customer sees at the big box stores.    Purchase pillow covers  from Amazon, the inserts from a local craft store (with a big coupon) and  target the Cleveland market adding snowflake clip art to the Cleveland skyline found in Easy Prints.
Kitchen Accessories
Purchase hand towels, potholders and placemats at the dollar store and heat print using Goof Proof transfers.   For both the towels and potholders, use used extra space on a gang sheet to print for free.  The placemat used a full-size design—add the family name for unique personalization and more profit!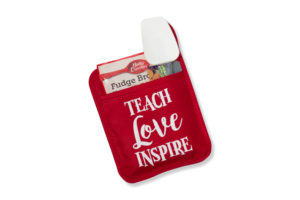 Tote Bags
We all have a lot to carry as we shop and with the push to rid the environment of plastic bags these low-cost tote bags purchased from our wholesale apparel line are a great canvas for a custom transfer.   We created designs hitting specific markets.   The small bags come from the dollar store and are a great way to wrap a gift card, we used one of our stock Christmas rhinestone transfers to make it shine!
Storage
After the holidays we need a place to put all the decorations and low-cost storage items can also be heat printed
Christmas Countdown Calendar
Believe it or not this is a rally towel we carry in our wholesale apparel line.   Apply the countdown transfer, add an Express name to personalize and sell for big profits.     Add a sharpie and color to countdown.
Gifts
Is your customer looking for a unique gift?   Did you know you can heat print gloves?   We used a digital transfer to make Dad's work glove gift a special one.   This is a great idea if you are looking for ideas for a Santa Shop.
Books are always a great gift and by adding a cover you make it extra special.   Approach a church or organization that will be giving out a lot of the item and win the sale
Ornaments
These super cute ornaments will be a hot seller at a craft fair.    All it took was scrap material, an embroidery ring, Goof Proof transfers and your creativity.    At this size we can fit 16 different designs on a gang sheet to keep the cost low—or use extra real estate left from a paid order to print for free.
These are a few of our ideas, share yours in the comments!