ALL NEW Football Apparel Design Layouts in Easy View
Looking to gear up for the football season with custom apparel that stands out on the field? Look no further! Explore our wide range of football apparel design layouts and create custom football heat transfers with ease.
Our online designer, Easy View®, makes it simple to design and create custom football apparel that showcases your team's spirit and style. Whether you need custom jerseys, hoodies, or other items, our collection of football design layouts has got you covered!

Introducing ALL NEW Football Apparel Designs & Layouts
Discover a diverse range of football-specific design layouts and clip art with Easy View®. Our design library offers everything you need to create high-quality football apparel, no graphic design skills required.
Check out our latest football design layouts below!
Create Custom Football Screen Printed Heat Transfers
Our Screen Printed Transfers are customizable up to 6 colors, providing the look and feel of traditional screen printing! With quick and easy application using a heat press, you can have professional-looking football apparel featuring plastisol inks in as little as 4 seconds!
Check out our latest football design layouts perfect for Screen Printed Transfers!
QFB-267
QFB-268
QFB-269
Full Color Football Apparel Designs
For eye-catching full-color designs, Transfer Express offers a range of Full Color Transfers to meet your decorating needs. Full Color Transfers have no color limitations and can even print gradients, ensuring your custom football apparel stands out on the field or in the bleachers!
Check out our latest football designs for Full Color Transfers!
3D-593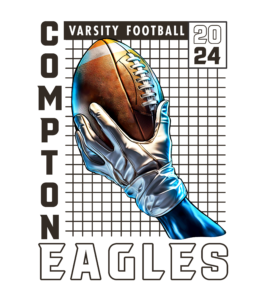 3D-594
BONUS Full Color Football Clip Art for Apparel Designs
As a bonus, we offer a vibrant selection of full color clip art designs in Easy View®. Elevate your custom football apparel with these eye-catching designs, perfect for adding an extra touch of creativity to your creations. Whether you're looking for bold graphics or intricate details, our football clip art collection has something to suit every team's style and spirit. Get ready to stand out on the field with these exciting additions!
Stay Ahead with New Football Apparel Design Layouts: At Transfer Express, we continuously update our Easy View® Online Designer with fresh designs every week. Stay on top of the game and showcase the latest trends by joining our Transfer Express' Facebook channel.
Subscribe for Exclusive Updates: Want to stay updated on the latest heat printing news, tips, and more? Subscribe to Transfer Express's blog and receive exclusive updates, ensuring you never miss out on the best ways to elevate your custom football apparel game.