Yes! You Can Heat Print Towels
Looking for a new product to add to your product line?   A good choice is towels—golf towels, exercise towels, beach towels and rally towels all can be printed with the same custom transfer you used for your t-shirt order.
What Transfer Products Should I Use?
Towels are predominately cotton so the good news is that all of our custom transfer products will apply to towels—Goof Proof, Hot Split, Elasti Prints and UltraColor all can be applied with a heat press to a towel following the directions provided with your order.
Towel Inspiration
Beach Towels
These are great promo items to sell to resorts, city recreation, boat clubs, cruise and vacationers to name a few.    You can find the center of the towel by putting a crease with your heat press both vertically and horizontally for easy alignment.   Or put at the top or bottom of the towel.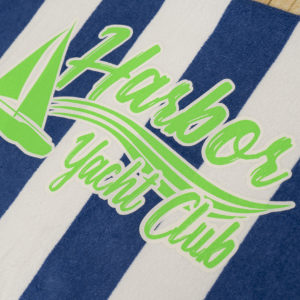 Golf Towels
These are perfect for golf outing promos, golf clubs, and golf teams.     Just be sure the grommet and hook are off the press area for each application.
Kitchen/Tea Towels
These are the prefect item to sell to restaurants, bars,  gift shops and at craft fairs.    Add fun sayings every chef wants nearby.    With the use of gang sheets you can put 6-8 different prints on the same sheet to cut your cost down.
Rally Towels
There is no better cheering tool than the rally towel.    Put your team name on the towel and have everyone in the stands waive the towel and cheer.  Watch how this motivates your team!
Gym Towels
Sell these to your local fitness club       to promote their business.   Or sell to a local business to use as a giveaway with their logo.   These towels get used and seen so a great advertising tool