New Trending Layout Designs
Selling trending designs to your customers, whether on selling sites like Etsy, in a local shop, or on the road at a sport tournament or fair, is easy to do with screen printed transfers. Stock up on the popular trendy designs for you to heat print onto your customer's preferred blank apparel color and size and never have to worry about wasted inventory with designs that don't sell. These layouts are the perfect way to add new designs to your collection without needing to be a designer.
Here's your new #Trending layouts to customize!
Every week we release new layouts and clip art  weekly into our Easy View online designer for you to customize and create the perfect design for heat transfers:
The brand new layouts are now available in the Easy View online design center — alongside THOUSANDS of other designs to choose from.
To access the new layouts, all you need to do is open Easy View and search Layout categories for Trending.
From here, you can scroll through to discover your options.
Stay tuned to discover all the new layouts, as well as our top tips on how to use them to up your design game: Subscribe to our blog in the top right corner! 
New Trending Layout #1 
The year of the Mom. One of the biggest trends on popular online shops like on Etsy is the #Momlife design. Your new layout QTR-45 features a silhouette of a girl with a messy bun, bandana bow and sunglasses.
You can now customize it to create some unique designs using heat transfers and your favorite blank apparel.
New Trending Layout #2
T-Shirt designs about nature and being unique is at the top of the trending list. Our designs added a beautiful layout featuring a sunflower clip art in new layout QTR-44 
New Trending Layout #3
Add a little sunshine and rainbows to your apparel with the new trending Take it Easy layout QTR-43.
Browse more designs in our trendy layout category and sign up with Easy View to start customizing your artwork.
BONUS Clip Art: Full Color from Great Dane Graphics
We also have for you FIVE new bonus clip art from our friends at Great Dane Graphics!
Artwork from Great Dane Graphics gives you bright, full color design options to use for your heat transfer designs.
These colorful graphics can be added to any Easy Prints® design layout in Easy View to create the perfect design for your customer.
Search for the clip art ID number below in Easy View or browse all clip art from Great Dane Graphics, including these, by selecting Add Clip Art and then choose the Full Color/ Great Dane Graphics category.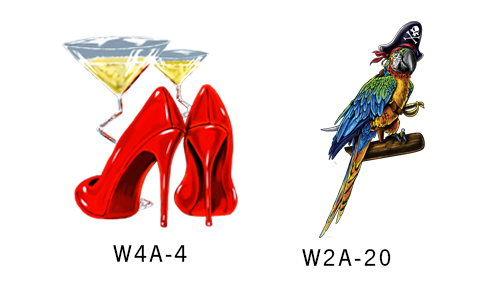 What do you think of Transfer Express' latest layout options?   Join the conversation over on Transfer Express' Facebook channel!
Connect with us on Facebook to see more ideas and inspiration for heat printing apparel!