Heat Print with New Construction & Automotive Layout Designs
New Construction and Automotive designs are finally here for you to customize for your customer's work apparel!
That's right, there are 3 brand new design layouts to get creative with — as well as some fun new full color clip art from our friends at Great Dane Graphics.
We're sharing all the details in this blog post, as well as our top tips to take your local Business t-shirt designs to the next level:
Introducing the New Construction and Automotive Layout Designs for Apparel
A few years ago we started adding new layouts weekly, instead of yearly, to the Easy View® online design center at Transfer Express. These layouts give you ready-to-customize professional designs without any prior design knowledge to get started. Even complete graphic design newbies can create beautiful t-shirt designs!
We will then turn your finished design into heat transfers that are ready-to-apply to any blank apparel.
And now, the new construction and automotive layouts are here!
The brand new layouts can be found in Easy View — alongside thousands of other design layouts and clip art for you to use.
To access the new business layouts, all you need to do is open Easy View, select Add Layout. From there, choose the Automotive or Constructin/Trades category from the Work section.
From here, you can scroll through to discover these new design options:
Or by searching the layout ID below.
Stay tuned every week to discover new design layouts added to Easy View®, as well as our top tips on how to customize them: New Layout Designs, Ideas. and Tips: 
New Business Layout Design #1: Construction Design QBU-375
Many local businesses do not have their own design, but want shirts customized with their business name.
The new Construction  layout,
QBU-375
, can be used to create the perfect design for a local business' work attire. Simply change the text, colors, and if you wish, the clip art can be changed as well!
Once your design is created just how you like it using your favorite ink colors, place your order for heat transfers. Then, decorate apparel using your heat press and a popular blank shirt like this Sport-Tek® Long Sleeve PosiCharge® Competitor™ Tee. Elasti Prints® is the best heat transfer choice for polyester performance wear!
TIP: Do you love this design layout, but not decorating for a construction company?  Select the Clip Art and change it to a different clip art to design for a different customer, like a restaurant, a school or organization.
New Business Layout Design #2 & #3: Auto Repair Design QBU-374 and QBU-373
Mechanics and automotive shops can bring both profits and pride for your heat printing business. With hundreds of thousands of automotive shops in the United States alone, this niche market can bring you big profits while allowing you to support local businesses.
This huge selection of auto shops and mechanics is certainly why our customers have been requesting more clip art and design layouts geared towards this market for creating awesome t-shirt and apparel designs. This week, we've added new Easy Prints® layout QBU-374 and QBU-373 to the Easy View® Online Designer.
Complete the mechanics work uniform with this Red Kap® Short Sleeve Ripstop Crew Shirt (above) or the Red Kap® Short Sleeve Industrial Work Shirt (below) from Transfer Express Apparel.

TIP: Make the most out of the transfer sheet by ganging multiple designs on a sheet. If your design doesn't fill the entire sheet, add a copy of the design or completely different design to the sheet to make the most out of the cost of your transfers. 
BONUS Clip Art: Full Color from Great Dane Graphics
As if the three new design layouts above weren't enough, we've also given you FIVE new bonus clip art from our friends at Great Dane Graphics!
These are not just any ordinary clip art. Artwork from Great Dane Graphics gives you bright, full color design options to use for your heat transfer designs.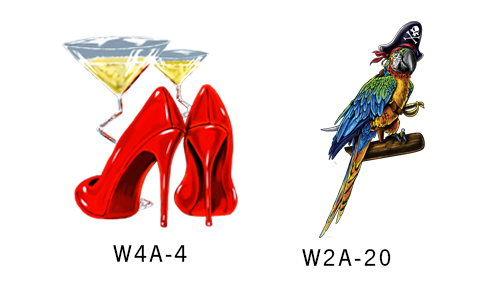 Like our other clip art, these colorful graphics can be added to any Easy Prints® design layout in Easy View to create the perfect design for your customer.
Simply search for the clip art ID number below in Easy View or browse all clip art from Great Dane Graphics, including these, by selecting Add Clip Art and then choose the Full Color/ Great Dane Graphics category.
What do you think of Transfer Express' latest layout options? Join the conversation over on Transfer Express' Facebook channel!
Like to stay on top of all the latest trends and feature releases? Subscribe to Transfer Express' blog for all the latest heat printing news, tips, and more!