How Will The Coronavirus Affect Your T-Shirt Business And What To Do About It
This is a different time for each of us, for sure.
Most likely, everyone will be affected in some way or another, especially small businesses.
For many t-shirt business owners, this is their livelihood and rely on income from their business to "put food on the table".
With events, sports, and businesses closed everywhere, there's not much demand for custom t-shirts right now.
You are not alone.
We definitely understand and are right there with you in this. If t-shirt businesses aren't getting orders from customers, neither are we getting orders for transfers.
However, there are two ways we can approach this: defeat or pick yourself up and "battle" on.
We are going to do our best to keep battling on here at Transfer Express, so we hope you will join us.
We are going to share some ideas with you to hopefully help keep your t-shirt business open during these hard times.
A Little Moment for a Pep Talk
When times are difficult I like to think of a line from one of my favorite movies, Behind Enemy Lines. In the movie, Chris Burnett (played by Owen Wilson) is a pilot who was shot down. While talking on his radio with Admiral Reigart (played by Gene Hackman), Reigart tries to give Burnett a pep talk.
Admiral Reigart: "You still got your boots, have you, cowboy?"
Chris Burnett: "Roger. They were tied on."
The point is, look at the current situation you are in, whatever it may be. The situation is here and it can't be undone. Now what can you do to make the most of it and put yourself in the best position to overcome it?
In the movie, Burnett was shot down in enemy territory and was being pursued. Admiral Reigart was helping Burnett assess the situation and give him encouragement – he's still got his boots; now create a strategy.
What T-Shirt Businesses Can Do During This Coronavirus Pandemic
Custom t-shirt orders ceased because there are no events, sports games, etc.
If you are running your t-shirt business full-time, this will obviously bring your revenue and production time to a screeching hault.
You will definitely have a lot of extra time now with the slowness of orders coming in.
There are a few other options you can try during this time.
Retail Style T-Shirts for Anyone
Try making shirts that are not customized for any particular group and sell online.
Sell on social media sites such as Facebook and Instagram, or if you have your own website, list them on there as well and promote on social media.
[Related Content: How to Create a Website for Your T-Shirt Business Using WordPress]
You can also use Spirit Sale to launch a website quickly to sell apparel online.
Some retail style shirt examples would be to start your own clothing line. Pick a niche and create some designs for that market.
Pick something that is popular in your area or that you know would sell. Maybe it's something you have a direct interest in, as well.
Another idea is to create city pride shirts. Here in the Cleveland area, these are very popular.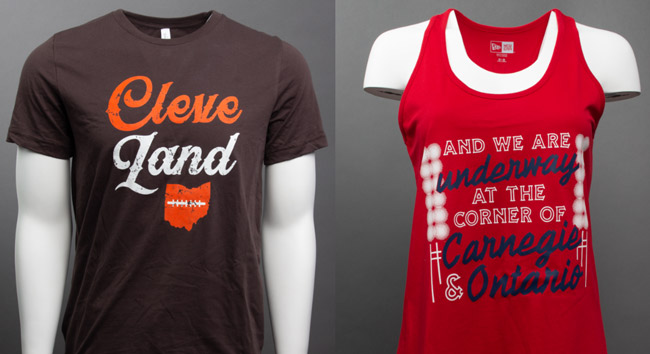 Create designs for the city itself with the skyline or use sports teams as the theme. What are other iconic landmarks are in your city, or what is your city known for?
You can avoid licensing by not including team names or logos.
Use your local team colors with your city name.
[Related Content: Selling Professional and College Team T-Shirts]
[Related Content: Professional and Collegiate Sport Licensing]
Another option for shirt printing is to make positive, inspirational shirts dealing with this pandemic. This will help spread some positive thinking and unity.
You may have already seen these types of shirts on social media. You can join in on the trend as well.
To help with this, we created some layouts for you to use. Using these layouts instead of your own custom artwork will help you save some money in printing costs.
[Related Content: New Layouts to Stay Strong! We're All In This Together]
Here are some new layouts and clip art we made specifically for this time:
Besides these specific layouts, use any of our thousands of layouts and get creative. We have seen so many t-shirts online on this pandemic topic. All you need to do is use Easy View® design center to customize our pre-made layouts for you. Customize as much as you want!
Here are a few examples to get your creativity going!
To us Ohioans, this one below is tribute to the Ohio Gov. Mike DeWine's daily 2 pm news conferences, "which are not just a source of vital information for Ohioans, but now provide a much-needed source of community for a state asking citizens to distance themselves from each other."
A drinking game "Wine with DeWine" has evolved for some viewers. With the mention of certain phrases, viewers take a drink. (For more on this topic, see News 5 Cleveland: The one thing Ohioans do together during coronavirus: The daily DeWine press conference)
This design was made "from scratch" in Easy View, meaning you can create your own designs if you wish by putting together any of our clip art and text.
Partner with Other Local Businesses
Try to think of other additional ways that you can team up with other local businesses. These are unconventional times and will call for unconventional strategies.
One of the marketing ideas in our post, 10 Marketing Ideas on a Budget for Your T-Shirt Business, recommends trying some guerilla marketing tactics. This might be a time to start thinking about this even more.
Guerilla marketing uses unconventional marketing tactics and usually is low budget.
We all have to put our thinking caps on and use some creativity.
If you have ideas for this, add them in the comments below!
Acts of Charity
If you are able to in this time, help out others.
There's lots of ways you can do this. Even small ways will add up.
Maybe for each t-shirt you sell (or every 5), you'll donate a shirt to your local shelter/service/charity that helps those in need.
Maybe you are able to give something small away for free. This could be anything, even a digital item.
Christine, from Cutting for Business, educates craft and t-shirt businesses. In one of her posts, she shares 10 Ways to Keep Your Craft Business Running During Uncertain Times.
One of the 10 ways she suggests is "Turn to digital goods – and offer them deeply discounted or for free."
"Why free? I strongly believe that if you take care of people in hard times they will remember your name and business during better times." – Christine, Cutting for Business
Some of Our Own Give-a-Ways
To help in this time, we are giving away some items as well, to help you.
A brand new heat press:  That's right! We are giving away a brand new Hotronix® Auto Open Clam 16" x 20" heat press. Here are the details on how you can win this top-class heat press.
Apparel Decorating Business Survival Guide: Download the new free ebook from Josh Ellsworth. In it, he explains how to create an online web platform, a successful work-from-home plan, collaborating with your community, and gaining loyalty after the pandemic.
Learn and Grow
Since you are probably experiencing more down-time, use your time wisely and don't waste it.
Get to the things you've been wanting to do or try for your business but just didn't have time to do before.
Learn something new. We started a 10-webinar series of live replays all on topics to grow your t-shirt business. These were some of the most popular topics we have presented, so we are offering them again.
They are every Tuesday/Thursday at 2 pm ET. Join us for all of them, or just for a few.
By learning now while you have time, you can even start to implement the things you learn so that when business does start back up again, you'll already be able to hit the ground running.
[Related Content: Webinar Series to Help You Grow Your T-Shirt Business]
Conclusion
Remember, we are all in this together!
Create a plan to get through the next few weeks or months.
To close, I'll use a quote from Admiral Reigart again from Behind Enemy Lines:
Admiral Reigart: "Zero-six, you've been shot down, life is tough. You're a combat aviator, start acting like one. Remember your training, put some angles between you and your pursuers. Evade and survive, and we will bring you home. You got that? We will bring you home."