Leg and Sleeve Designs for Apparel: ALL NEW Layouts in Easy View®
Are you ready to increase your custom apparel profits with unique print placements? Look no further than Transfer Express and our innovative Easy View® Online Designer! We're excited to introduce an array of brand-new designs, specifically tailored for apparel leg and sleeve placements. With our user-friendly tool, designing custom apparel has never been easier.
Increase Profits with Leg or Sleeve Prints on Apparel
Leg and sleeve designs provide a unique opportunity to upsell custom apparel, allowing you to offer your clients something truly special. These unconventional placements instantly add value to your creations, making your offerings more irresistible than ever. Our Easy View® Online Designer empowers you to unleash your creativity without any hassle. Choose from an extensive collection of design templates, with designs specifically crafted to fit leg and sleeve areas.
Check out our latest design layouts ideal for leg or sleeve designs below!
QLG-106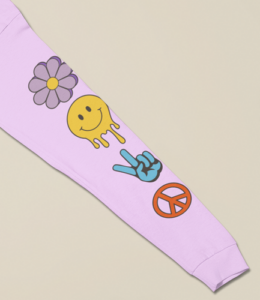 QLG-107
QLG-108
Full Color Leg and Sleeve Apparel Clip Art Designs
In addition to our customizable design layouts, we also have five ALL NEW full color clip art graphics for apparel leg and sleeve designs. These graphics can be added to your design board in Easy View® for you to create your own custom leg or sleeve designs.
Check out the latest leg and sleeve clip art graphics!
Learn How to Heat Print Sleeves
Heat printing on sleeves can be tricky. To learn tips and tricks on best practices for printing on sleeves, check out the video from Dave below!
Stay Ahead with New Leg and Sleeve Design Layouts: At Transfer Express, we continuously update our Easy View® Online Designer with fresh designs every week. Stay on top of the game and showcase the latest trends by joining our Transfer Express' Facebook channel.
Subscribe for Exclusive Updates: Want to stay updated on the latest heat printing news, tips, and more? Subscribe to Transfer Express's blog and receive exclusive updates, ensuring you never miss out on the best ways to elevate your custom apparel game.