New Logo Layout Designs
Local decorators often decorate for local small  businesses. You'll likely come across a company that is just starting up or is a side hustle that doesn't have their own logo yet.
The owner may come to you needing t-shirts made with their company name on it but doesn't have a design. We've made two new business logo layouts for you to customize for your customer's company shirts.
These three new layouts give you a professional but simple business logo to customize with your customer's company name, phone number, website or any other information they want represented on their branded apparel.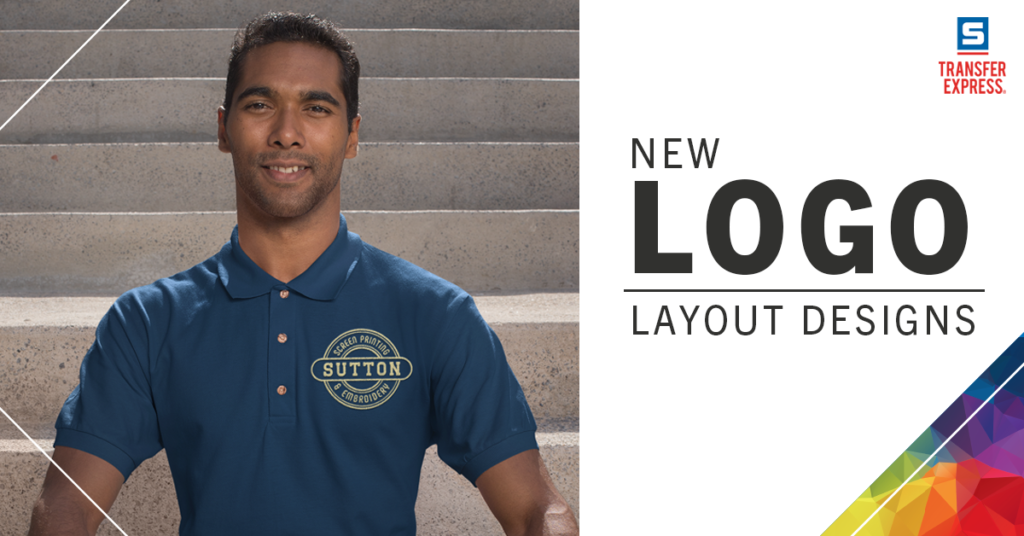 Every week we release new layouts and clip art weekly into our Easy View online designer for you to customize and create the perfect design for heat transfers:
The brand new layouts are now available in the Easy View online design center — alongside THOUSANDS of other designs to choose from.
To access the new layouts, all you need to do is open Easy View and search Layout categories under the Work section.
From here, you can scroll through to discover your options.
Stay tuned to discover all the new layouts, as well as our top tips on how to use them to up your design game: Subscribe to our blog in the top right corner! 
New Logo Design Layout #1 
Start with new logo design
QLO-70
shown below on a Port Authority ® Cotton Canvas Duffel. This layout gives you a modern, but classic logo for any business. This design layout can be customized to your customer's needs.
Simply create your own look by changing the text, colors and clip art in the Easy View Online Designer.
Like this apparel style? Get any of these items shown in this blog at Transfer Express Apparel. You'll find popular brands and styles for decorating with heat transfers and your heat press. Shop wholesale blank apparel now! 
New Logo Design Layout #2 
You'll also find new layout QLO-72  that can be used for any general business logo design. This design works great for single color or two color logo designs on a variety of different colors shirts. Size this design down to a heart/left chest size design at 4.5″ as a recommended size, and heat apply to a left chest for a professional look.
Port Authority® Heavyweight Cotton Pique Polo Navy K420
New to printing left chest designs? Learn how to easily size and place your left chest logos with tips and tricks in this past blog post : Left Chest Shirt Printing Placement
New Logo Design Layout #3 
We've also added new logo layout QLO-71! This design is perfect for a variety of businesses like local restaurants. By changing the text and adding  your own customization, you can take this design and create a variety of items to enhance the business' identity.
Stay tuned to discover all the new layouts, as well as our top tips on how to use them to up your design game: Subscribe to our blog in the top right corner! 
BONUS Clip Art: Full Color from Great Dane Graphics
We also have for you FIVE new bonus clip art from our friends at Great Dane Graphics!
Artwork from Great Dane Graphics gives you bright, full color design options to use for your heat transfer designs.
These colorful graphics can be added to any Easy Prints® design layout in Easy View to create the perfect design for your customer.
Search for the clip art ID number below in Easy View or browse all clip art from Great Dane Graphics, including these, by selecting Add Clip Art and then choose the Full Color/ Great Dane Graphics category.
What do you think of Transfer Express' latest layout options?   Join the conversation over on Transfer Express' Facebook channel!
Connect with us on Facebook to see more ideas and inspiration for heat printing apparel!