Numbers for Spring Sports Uniforms
Spring sports are an integral part of custom apparel decorating, especially the uniforms. And most of these uniforms include numbers.
There are lots of popular sports this time of year with lots of participants.
And for an apparel decorator, more participants help increase the profits, through volume, of the uniforms and other apparel that goes with that.
We're talking baseball, softball, track, etc.
Almost every high school and college have a baseball, softball, and track team. Most middle schools also have a track team as well.
Just about every city has a recreation league for baseball and softball that cover younger aged kids through adult leagues.
And all of these sports include a uniform for each participant that contain at least numbers, if not names as well.
In this post, we are going to cover some tips on numbering Spring sports uniforms.
Using screen printed transfer numbers is one of the fastest and easiest ways to number team uniforms and other team spirit wear, too, whether it is fanwear or warm-ups.
Screen printed transfer numbers are versatile and durable to hold up on sports jerseys that get a lot of wear and tear as well as a lot of washings.
Stock Number Transfer Options
Whether the team you are decorating for wants regular cotton t-shirts, or fancy high-end polyester jerseys, there are numbers that will apply to each of these.
All of the numbers apply to cotton, polyester, and cotton/poly blends.
Goof Proof® numbers are our most popular because they apply so fast – in just 4 seconds.
We also carry Elasti Prints® numbers, which apply at a lower temperature. These are perfect for stretchy, heat-sensitive 100% polyester. Since they apply at a lower temperature, it helps prevent scorching during the heat printing process. These numbers also have some stretch so they move with stretchy fabrics.
You can get numbers in our stock options or if you don't see something specific you need, you can also order custom numbers as well.
Stock screen printed numbers are available to order in 5 packs, Express Packs, or Number Kits.
We have two main number styles available, some in one color and some in two colors. There are styles available in Goof Proof and Elasti Prints transfer types.
There are four different sizes available – 4", 6", 8", and 10" with 50 colors/combinations to choose from.
Heat Printing Numbers Alignment
Aligning the number transfers are easy and fast.
Each digit comes individually on its own paper carrier. They are all pre-aligned within the carrier for easy alignment.
If you are using a single digit, then simply align the single piece on the apparel.
If you are applying a double-digit number, just touch the paper edges together. We call it "perfect pairing". Since they are all pre-aligned, they align perfectly by just matching up the paper edges. This also includes names, as well, if you are applying names at the same time.
Names and numbers are ordered separately, but all can be applied at the same time.
Two-color numbers are ready to apply in one easy step. Both colors are already on the transfer paper and apply at the same time. There are no two-step number applications. All numbers, multi-color included, apply in just one step.
When adding numbers, or names and numbers, to the back, use the same alignment guidelines that you use for the front of the shirt.
[Related Content: Heat Transfer Placement and Position Guide]
Identify your vertical and horizontal centers and use those to make sure your numbers are in a good spot.
Make sure you don't apply the numbers too low on the back, especially when a name is not being used.
Tips for Numbering Spring Sports Uniforms
Heat printing baseball, softball, and track uniforms are easy, however, make sure the league you are decorating for doesn't have any restrictions on number/logo placements, colors, sizes, etc.
Some leagues will have a larger budget to work with than other leagues. Know who your customer is that you are working with and the budget they have for their uniforms.
Most youth leagues stick with t-shirts with a logo or sponsor on the front, and a number on the back.
As the kids get older and join travel teams, these teams typically will have a larger budget and fancier uniforms. They may have button down jerseys, with a logo and smaller player number on the front, with a player name and larger number on the back. They even add other printing areas on the sleeve (logo or flag) and a small yolk logo, too.
How to Choose the Right Uniform Number Style and Size
If you need help choosing which number style to use, first you need to know which fabric you will be applying the numbers to.
If you are applying to cotton, for example, you can choose from any of the styles since they all apply to cotton.
However, if you are applying to heat sensitive polyester, you'll want to choose a Champ Pro number, since that is the Elasti Prints transfer type which applies at a low temperature.
Once you have the style, you'll need to pick a size that is appropriate for the uniform size, and the placement on the uniform. Use these charts for assistance.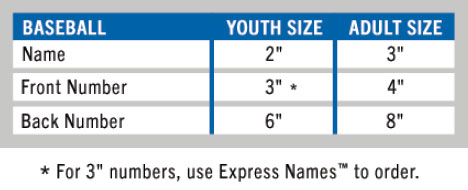 If adding numbers to the front and back, we have 4" numbers which are great for the front and 8" numbers for the back, for adults.
Pro tip: If teams really want to get fancy, you can even add a 2" or 3" number to their pant leg in the thigh area using Express Names.
[Related Content: How to Order Small Screen Printed Transfer Numbers]
Choosing a Color for Uniform Numbers
There are 50 colors and combinations of colors available in the stock number selection.
This will suffice for a majority of the major sports team colors. If there is an instance where a team has unusual team colors, you have 2 options.
You can either choose a neutral color like white, black, or grey, depending on the apparel color, or you can get a custom number for the actual team color.
When choosing colors, there are a few tricks you can use to add a little more color to the uniform without adding that much extra cost.
Choose a different color number than what was used for the logo. This gives the appearance that the jersey is a multi-color uniform, but you only paid for a single color custom transfer and a single color number.
The other option is that you can add a two-color number to the uniform, which also adds a little more color, but doesn't add that much more to the cost. You also save by getting a 1 color print for the front of the jersey.
Numbers for Track Uniforms
Track uniforms may or may not have numbers. It may vary by regulations by the state or conference, depending on high school or college rules.
Numbers in this sport are being seen less on the uniforms, and more on the "bib" that they wear for each race.
If the number is permanently attached to the uniform, typically they use smaller numbers such as the 4". It is not unusual either for uniforms to be 3 digits instead of 2.
These uniforms may have the 3 digit number on the front and the back, and possibly on the shorts as well. If placing numbers on the shorts, you can use the same trick above and use Express Names for smaller numbers, even as small as 1" size. Instead of placing letters on the Express Name, use numbers instead.
Keep in mind that some track uniforms are also more form fitting with the singlet style that look like swim suits even. Make sure to check the fabric content of these types of uniforms.
Numbers for Fan Spiritwear
Apart from the actual uniforms, fans, especially family members like Mom and Dad, like to wear their child's number as well on their spiritwear.
This is an easy add-on to the custom apparel which just helps to increase your profits.
When ordering the transfers for the spiritwear apparel, don't include player numbers on the design. Instead, use stock numbers, or Express Names for smaller sizes, in personalize for the individual parents.
These sell well for all age groups, whether it's younger little leagues, or older leagues for high school.