New Pride & Juneteenth Layouts Available to Customize in Easy View
Introducing the New Pride and Juneteenth Layout Designs for Apparel
We add new design layouts weekly to the Easy View® online design center at Transfer Express. These layouts give you ready-to-customize professional designs without any prior design knowledge. Even complete graphic design newbies can create beautiful t-shirt designs using these layouts!
We will turn your finished design into heat transfers that are ready-to-apply to any blank apparel.
You'll find the new layouts in Easy View — alongside thousands of other design layouts and clip art for you to use.
To get to the new design layouts, all you need to do is open Easy View, select Add Layout. From there, choose the Occasions section and browse the Event section.
From here, you can scroll through to discover these new design options.
New Pride Layout #1 
Celebrate and support Pride month festivities with new Pride layout 3D-579.
Print your Pride heat transfers using full color heat transfers available at Transfer Express. You'll get bright colors with the UltraColor line of digital transfers. Whether you're decorating cotton, polyester, or other fabric, you'll find the perfect transfer for your application and quantity of transfers needed.
TIP: Our helpful customer service and useful selection tools to help you choose the best transfer, if you are not sure. Try the handy Transfer Selector Tool at the top of our blog. 
New Pride Layout #2
We LOVE this new design 3D-580 and we know you will too. Whether you're selling on shops like Etsy, at a parade or festival, or your own apparel shop,  this design is perfect. Customize the rainbow text to your own text and add your own flair.
Full color transfers in the UltraColor line of digital heat transfers can be applied to light and dark fabric and still keep the colors bright.
New Juneteenth Layout #1
Juneteenth is a powerful and important holiday and a great way to sell custom apparel to show your support and celebrate the African American culture. Whether you're selling Juneteenth apparel to individuals on sites like Etsy, selling to groups like churches, schools, and businesses, or even selling to events like fundraisers or parades, we have art to customize and create amazing printed apparel.
Customize new Juneteenth layout QHL-161 shown below in Easy View to create your heat transfer design.
New Juneteenth Layout #2
We also added new layout QHL-163 to celebrate Juneteenth events and groups.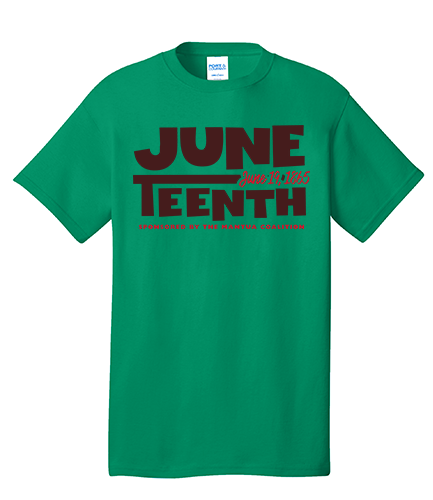 New Juneteenth Layout #3
This next design QHL-162 features the popular handwritten style font and can be printed in a one color design or add color as we've shown below.
Stay tuned every week to discover new design layouts added to Easy View®, as well as our top tips on how to customize them: New Layout Designs, Ideas. and Tips: 
BONUS Clip Art: Full Color Pride and Juneteenth 
We are just getting started! In addition to the 5 new designs above, there are FIVE new bonus clip art from our friends at Great Dane Graphics!
These are not just any ordinary clip art. Artwork from Great Dane Graphics gives you bright, full color design options to use for your heat transfer designs.
Like our other clip art, these colorful graphics can be added to any Easy Prints® design layout in Easy View to create the perfect design for your customer.
Simply search for the clip art ID number below in Easy View or browse all clip art from Great Dane Graphics, including these, by selecting Add Clip Art and then choose the Full Color/ Great Dane Graphics category.
What do you think of Transfer Express' latest layout options? Join the conversation over on Transfer Express' Facebook channel!
Like to stay on top of all the latest trends and feature releases? Subscribe to Transfer Express' blog for all the latest heat printing news, tips, and more!