Use Easy View Online Designer to Create Custom Heat Transfer Designs
Easy View online designer is a free design tool to help you create custom heat transfer designs for t-shirts, hoodies, bags, caps, and really any apparel item.
It's easy to use with very little learning needed.
Even if you aren't a designer, you can make awesome t-shirt designs in just minutes using our pre-loaded layouts and clip art that you can use to customize your own design.
If you do have your own artwork, you can upload that, too!
We're going to show you where you can find the tools in Easy View online designer, along with showing you step-by-step how to create a design from start to finish.
After reading this, you'll be creating t-shirt designs quickly and easily.
There are also some cool features on how to create your own t-shirt mock ups. We'll show it all to you, so let's get started.
Getting to Know the Online Designer – Where to Navigate
Easy View online designer is easy to use and learn, but also has many tools and features. In this section, let's take a quick look at where all of the tools are located around the artboard.
Starting with the top menu, let's go through the various menus and panels to see where everything is located.
In the upper left corner of the top menu, you can start a new job, open an existing saved job, or save the current job you are working on.
The middle area will show you which step you are on, either 1) Design, 2) Options, or 3) Review.
Over to the top right, you can click on Settings to open the settings panel.
Here you'll find additional options, including setting your artboard orientation (portrait or landscape), changing from Design Mode to Customer Mode, showing grid lines, or invisible objects using a wireframe mode.
The left toolbar is where most of the action will be taking place while you are designing your custom transfers.
On the Get Started tab, you can choose from several options including choosing an Easy Prints® layout or clip art (our artwork), or uploading your own art.
If you need help, there is an option for guidance at the top.
That will open a submenu, including an option to start a guided tour.
The rest of the left side options let you add text, add a clip art, add a layout, upload your own art, or create a mock up once you have created your art.
After you've added some art, you'll use the Edit tab to work on your design.
You can change fonts, the size of your design, add patterns, outlines, distress, and other effects.
The blue toolbar at the top of the artboard contains even more tools to help you create your design just how you want it.
Clicking any of these options will give you a dropdown with the options available for that tool.
The other place you'll find a panel is at the bottom.
Here, you'll be able to choose your print method and transfer type, enter a quantity, fix any errors, switch your apparel color, or move onto the next Options screen.
Which brings us to the Options screen.
Once you click over to the Options, the second choice in the upper middle navigation, you'll have the ability to add a cut service, a Color Change, choose which fabric you'll be applying the transfer to, shop blank apparel, or add any order notes you would like us to know about.
Finally, on the Review screen, you'll be able to see all of the options you've chosen for your order to double-check everything before you add to cart.
So now that you know where the tools are located, let's dive deeper into how to create a t-shirt design in the online designer.
Creating a Design Using Easy Prints Layouts in Easy View Online Designer
Let's add an Easy Prints layout (one of our pre-made designs that you can customize) by either clicking on the Add Layout or Browse Layouts. Both will take us to the layouts.
For this example, we chose layout QSL-282.
Changing Text in the Online Designer
In our example, we'll first start to customize the design with our own text.
We'll change the word RED to NAVY by double-clicking on the word RED. This will bring up a text editor where we'll change the text to NAVY, and then click Confirm.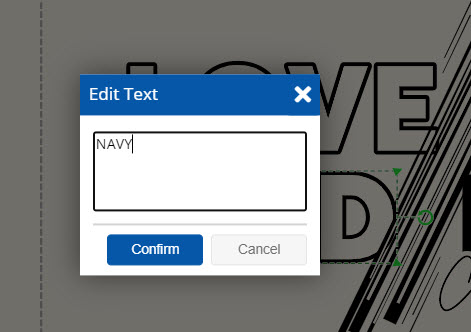 Alternatively, we can also click on a word and edit the text from the Edit menu located on the left side of the screen. We'll click on the word BLUE and change it to GOLD.
We're also going to change the script text underneath to Berkshire Hornets.
Choosing Ink Colors in Easy View
Next, we'll change the ink colors of our t-shirt design. We're going to select the parts of the design we want to change to Navy Blue, and then click the Black ink swatch to switch it to Navy Blue.
Then, we'll select everything we want to switch to Gold ink, and choose Gold from the ink swatches.
We're going to put this design onto a light blue shirt, so we'll switch the Apparel Color near the bottom left of the screen to Mid-Blue by clicking on the swatch.
Changing Your Art Size in the Easy View Online Designer
We want our design to be 11" wide, so we'll select the entire design, and change the width to 11" in the Edit panel on the left.
[Related Content: Finding Design Sizes & Transfer Placement]
So far, our design looks like this.
Creating a Gang Sheet in Easy View Online Designer
Now, we're going to set up our gang sheet to add even more to the transfer sheet.
[Related Content: Gaining the Most from Your Transfer Sheet]
Let's add a hornet mascot by clicking on Add Clip Art on the left.
After navigating to the Hornets/Bees section of clip art, we'll find one we like and add it to our sheet.
We'll resize the hornet clip art by clicking and dragging on one of the corner green arrows on the bounding box around the clip art.
Just like we did for the text, let's change the clip art ink colors to Navy Blue and Gold. We'll change the Black ink to Navy Blue, and the Show Through to Gold.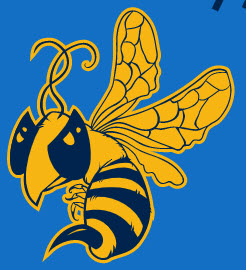 We like the script text on the Berkshire Hornets, so let's duplicate the text to add another instance on the sheet.
With the text selected, you can either choose Object on the top blue toolbar, and choose Duplicate, or use your keyboard shortcut key of Ctrl + D.
We just want the word Hornets, so let's click on the text and remove Berkshire in the text editor.
We're also going to resize the new Hornets text to be larger by selecting the word and dragging one of the green corner arrows to make it bigger.
We have some extra space on the sheet still, so let's duplicate the hornet mascot a couple times and add them to the open space left on the side of the sheet. These extras can be used for sleeve prints, back prints, shorts, caps, can coolers, etc.
Our finished sheet now looks like this.
Before we get any further, let's save our design.
Saving Your Design in Easy View
Up in the top left navigation, click on Save.
Give the job a name, and click Save Job As.
One of the new features in Easy View allows you to save your jobs to folders. This helps organize your jobs. In order to use a folder, you have to have the folder already saved. More on that below.
Choosing Your Print Options in Easy View
Now let's get to the bottom ordering panel.
First, we're going to choose our Print Method (either screen printed or full color) and then the Transfer Product.
When we click on the bottom Print Method text, it will bring up the options to choose from.
We want to get this as the best-selling screen printed Goof Proof transfer, so we'll make sure Screen Print is selected, and then Goof Proof for the Product Type.
Next, we're going to enter our quantity that we want to order.
This is for a school spirit sale, and we're going to order 108 sheets at the quantity price break.
Because this is a gang sheet, the quantity is for 108 sheets. If we only had one image on the sheet that was small enough to fit multiple on the sheet, the quantity would be for the number of images.
We're ready to move on to Step 2: Options by clicking on the green Next button or by clicking on the Options at the top.
We're going to put this on 50/50 shirts, so let's choose that from the Fabric Types.
Since Goof Proof can go on cotton/poly blends, it shows that we are Compatible.
Ordering Blank Apparel from Easy View
Let's order our blank apparel next.
Click on Browse All to choose our wholesale apparel items and quantities.
This will open an additional tab in your browser where you can navigate to your apparel, add your quantities, and add to cart.
Don't worry, your Easy View online designer session is still in the other tab. Click back to the online designer to finish your transfer order.
Finishing Your Custom Transfer Order
Click the green Next button to review our order.
After checking all of the information, we are ready to order.
Click the green Add to Cart button in the lower right corner to finish our custom transfer order.
It will then take you to your cart where you can continue to shop or checkout.
More on Adding Custom Folders
To organize your saved files, you can now add folders to your Easy View account.
Before you begin, click on Open Job and then choose New Custom Folder.
Type a name and choose Add.
This folder will now be available to save your jobs to. You can also move your previously saved jobs into this folder for re-organizing.
To do this, find the design you would like to move to a folder and click on the folder + icon below the file name.
Then click on the folder you want to move it to.
Creating a Mock Up in Easy View
With your design open in Easy View, you can also create a mock up that you can download and save.
This makes it easy to show your customers a design you made for them, which they can then approve.
You can also use the mock up generator to create images for your social media, website, brochures, etc.
To create a mock up, click on the Mock Up tab on the left panel.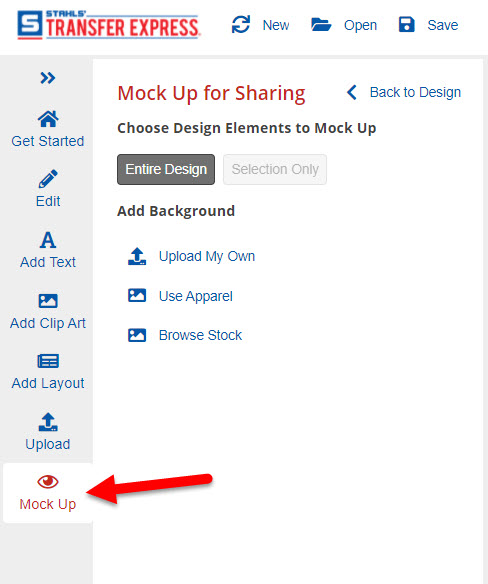 Since our Hornets example was a gang sheet and we only want to show the main design on the shirt mock up, we will select that part of the sheet and then click on Selection Only.
Then, we need to add a background for the mock up.
Here, you can choose to upload your own background if you have one, or you can choose from any of the apparel options that are offered in the blank apparel section.
For this example, we'll click on Use Apparel and choose the PC55 t-shirt that we ordered above by typing it into the search box and then clicking on it.
We can then choose the shirt color from the choices to the right side of the apparel choices.
Then, you can adjust your design as needed on the mock up by resizing and moving where you prefer.
When you are ready to download your mock up, click Back from the Apparel. Then, click the green Download button at the bottom.
Easy View will prompt you to enter a file name, and then click Download.
How to Upload Your Own Art Into Easy View Online Designer
Besides using our Easy Prints layouts and clip art to create custom t-shirt designs, you can also use your own art if you have it.
It's just as easy to upload your art into Easy View. Instead of clicking on Add Layout or Add Clip Art, click on the Upload tab on the left side panel.
Click on Choose File to select your custom artwork file.
If uploading a non-vector file, such as a .jpg, .png, .tif, etc, it will take you through the Image Editor. In the Image Editor, you can remove any white background, choose a print method (spot color or full color), and then add it to the design space in Easy View.
[Related Content: Vector vs Raster Art]
For this example, we chose to remove the white background, and then use spot color version for screen printed transfers.
After it has been added to Easy View, you will need to choose the ink colors for printing. Us the same Edit tab in the left panel.
If, when uploading, you didn't choose to use a spot color version and chose to use the full color version of your logo, you will need to use the Configure Color Map button to choose your ink colors in Easy View.
You only need to configure your colors if you are choosing a screen printed transfer type. If you are using a full color transfer type such as UltraColor, then change the Print Method in the lower left corner.
If you are uploading a vector image, you won't be prompted to use the Image Editor upon uploading. Instead, you'll be able to choose your ink colors immediately upon upload.
[Related Content: Vector Pricing]