What's New for 2022
Hey friends! We're already into the new 2022 year and hope you're starting the year off strong.
There's a lot of t-shirt printing to be done this year, and with that comes big opportunities for your t-shirt business.
With that being said, we always try to start off the new year with new products and services to help you grow your t-shirt business.
And 2022 is no different.
We're excited for this year's new offerings, so let's get to it.
If you are new to Transfer Express, we are the world's largest supplier of screen printed and digital heat transfers heat presses, free customizable designs, wholesale apparel, and expert advice to help grow your t-shirt business. If you haven't already subscribed, we are kicking out new blog posts like this one every single week.
UltraColor® Max Direct to Film Heat Transfers
You may have heard about direct to film (dtf) transfers. The benefit to these transfers is that you can get full color, digitally printed graphics economically at low quantities.
In fact, with the new UltraColor Max, there are no minimum quantities, so you can order as few as 1.
And it's priced by the square inch, not by the number of images or sheets.
You can order by the single image, or you can create gang sheets with multiple images. The maximum size is 22" x 22".
It is $0.06 per square inch, and at that price point, it is very affordable to do full color, low quantity orders.
Plus, with UltraColor Max, there is no need for a clear or white outline on your artwork. Get fine detail and stand-alone text.
It is lightweight and has a soft hand.
As if it couldn't get any better, it does.
UltraColor Max is a hot peel transfer and applies at a low temp of just 290°F for 12 seconds. With that fast and easy application, you can speed through full color jobs in no time.
The transfer carrier peels off so smoothly and easily.
Since it is full color and not priced by the number of colors, get unlimited colors in your design using the CMYK color palette.
You can get UltraColor Max samples here and order these direct to film transfers using Easy View® online designer.
Speaking of Easy View designer, let's talk about that!
Improved Easy View Online Designer
Easy View online designer helps so many t-shirt businesses create and order their t-shirt designs.
You don't have to be an artist to make great t-shirt artwork. There are literally thousands of pre-made layouts and clipart that you can use to customize and make your own unique design.
You don't need any previous design background or experience with any design software. It's a powerful, feature-packed designer without all of the confusing tools or learning curve.
Just point and click to change your text, fonts, clip art, colors, etc.
[Related Content: Use Easy View Online Designer to Create Custom Heat Transfer Designs]
You don't have to download it – it's available online, no matter where you are. Use it on your laptop, tablet, or phone.
The best part? It's completely free.
And now Easy View got a make-over with improvements.
Its streamlined interface makes designing easier and faster. All of your tools are visible without digging through buried menus.
The effects are more accessible for easy designing.
The new version of the mock-up tool will have you amazed. You can now upload your own backgrounds, too. Use your own photos to keep your website images or social media images all with one consistent look.
It's now easier to choose a transfer type, too. If you have had trouble choosing a transfer type in the past, now a description of each transfer type is available right in Easy View. These will help you decide which transfer type you will need for your job.
Custom folders are one of the new features as well. Organize all of your saved designs into your own file structure to easily locate and reference jobs.
Jumbo Screen Printed Transfer Sheets
You asked and here they are – jumbo transfers! With a larger option for a sheet size, you can fit more onto your gang sheets or create larger designs.
The new jumbo sheet size is 12.5" x 17.5". At this larger size, you can fit multiple full size images on the same sheet.
[Related Content: Jumbo Sheets are Here]
The jumbo size is available in the Goof Proof, Hot Split Retro, and Elasti Prints screen printed transfer types.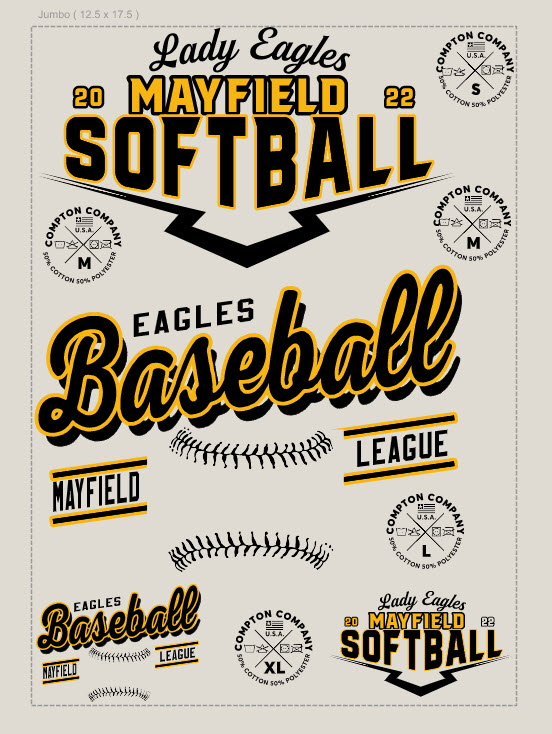 (Remember, UltraColor Soft, Stretch, and Stretch with Blocker already come in a larger 11.5" x 18" size, too!)
View jumbo sheet pricing to compare when it makes sense for you to switch from standard sheets to jumbo sheets.
All Stock Screen Printed Numbers are Back
During the fall season, we limited our stock number styles and colors to focus on printing your custom orders.
But now we are back in stock for all styles and colors again.
Choose from a variety of popular team uniform colors, along with the best-selling styles of Champ and All-Star.
You can also choose from single or multi-color.
Two transfer types are available – Goof Proof for cotton and cotton/poly blends, and Elasti Prints for 100% polyester.
Order in 5 Packs (5 of the same digit), Express Packs, or Number Kits.
Application Kit for Heat Presses
Brand new this year, we added a kit to help with applying transfers with your heat press. The Application Kit comes with the most-used accessories for your heat press.
It comes with a new placement ruler that helps align your transfers on your apparel easier than ever.
It also comes with a mouse pad to help raise up your print area when dealing with seams, zippers, buttons, and other printing obstructions. This pad still gives you a nice firm printing surface that is needed with screen printed transfers.
Also included is a pack of cover sheets, an application poster to hang by your heat press with all of the transfer application instructions, temperature test strips, a $10 off coupon for your next order, and a t-shirt and transfer to press immediately.
Use it as a test but also as a sample. Wear the shirt proudly to advertise you sell custom apparel!
The Application Kit is the perfect set of accessories to go alongside your heat press. These tools will help you with everyday printing or when you are in a pinch situation.
Don't get caught without these items!
Revamped Marketing Kit
We like to call the Marketing Kit your t-shirt business-in-a-box. It comes with a bunch of tools that can really help you sell more custom apparel and make it easier in the process.
If you are struggling with creating artwork, or having a hard time presenting options to your customers, this Marketing Kit will help.
Now, the kit comes with the following:
a full color Idea Book™ artwork catalog – This contains the newest artwork layouts for this year, along with the best-selling from last year so you know you are showing your customers the most popular, and most fresh designs.
a black and white version of the Idea Book – This low cost version of the catalog is perfect to leave with your customer so they can browse through the designs on their own time. Add a sticker to the cover with your phone number so they know who to call back when they are ready to order.
two display posters – These posters are great to hang in your store front if you have one, or to take along with you to meet with customers. They show the customization process for creating t-shirt designs along with the name and number styles available.
a 20 pack of full size sample transfers – Press these transfers onto apparel and you have a full display of examples that you can show to your customers what you can print for them. Your customers can see and touch the quality of your printing. Not only that, they match the photos in the Idea Book.
Color Selector – The Color Selector is a swatch book of all of the stock ink colors. These are actual printed and applied inks, so they are the exact color match to the stock ink colors. You don't have to guess when you are with your customers what each color will look like. They can see and compare each color with the Color Selector.
price guide, $10 coupon, and t-shirt with transfer – Just like the Application Kit, get a t-shirt that you can press immediately to start wearing. You become your own walking billboard advertising that you can print custom apparel.
If you don't already have an account, this Marketing Kit will get you set up and give you access to Easy View online designer where you can start creating t-shirt designs immediately.
Get the Marketing Kit to start selling more custom apparel.