New Layouts for Vacations and Holidays
Looking for a new design for your customer's vacation t-shirts? We got you.
Family vacations to magical places or just a quick getaway from the office.  There's a design for that too!
These new Vacation designs are sure to amplify your shirts! These designs allow us to get take a break and unwind from every day lives. 
In this blog, get to know 3 new free Vacation layout designs available on at Transfer Express, ready to use for any of your heat transfer designs.
Design Ideas for Vacation Apparel
We are adding new layouts weekly to the Easy View® online design center at Transfer Express. These design layouts give you ready-to-customize quality artwork. Therefore, you don't need any prior design knowledge to get started. Even complete graphic design newbies can create beautiful t-shirt designs!
You will then turn your finished design into heat transfers that are ready-to-apply to any blank apparel.
And without further delay, the new Vacation layouts are here!
You can find the brand new layouts in Easy View — alongside thousands of other design layouts and clip art for you to use.
To access the new track layouts, all you need to do is open Easy View, select Add Layout. From there, choose the Travel/Vacations category from the Occasions section.
From here, you can scroll through to discover these new design options Or by searching the layout ID below.
New Layout Design #1: 
Sail away to a tropical island wearing this fun layout, QVA-29.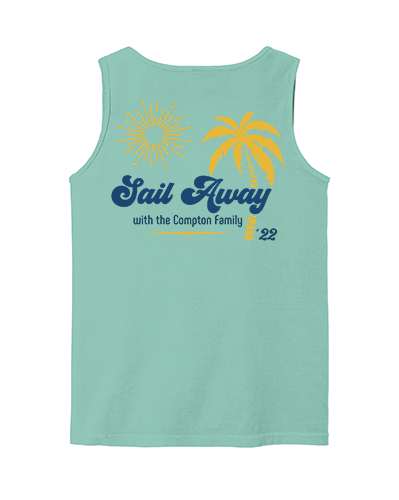 New Layout Design #2: 
Did you know four of the world's most visited tourist attractions are Disney parks?   They are a popular site for destination weddings, family reunions, corporate events, student trips and sporting competitions.
While Disney owns and protects its trademarks such as Mickey Mouse, Donald Duck and the Disney logo, with a little creativity you can avoid licensing issues and still create a great keepsake.  For example, if the group is going to Disney—their logo and the characters are all licensed and protected.  But use this new layout QVA-30 with the castle clip art and Waltograph font and it makes a perfect way to remember the vacation.
New Layout Design #3: 
Families heading to the beach will love this new beach layout!
Interested in knowing how to sell even more vacation t-shirts? Check out our latest blog below to give you insight on how to grow your sales.
Are you a fan of of Transfer Express' latest layout options? Join the conversation over on Transfer Express' Facebook channel!
Like to stay on top of all the latest trends and feature releases? Subscribe to Transfer Express' blog for all the latest heat printing news, tips, and more!