Printing Football Spirit Wear
If you are looking to print custom spirit wear, then you're in the right place. Printing football spirit wear is easy with screen printed transfers and just a heat press.
In this post, we'll show you lots of spirit wear ideas, how to get artwork or design spirit wear, and how to print team spirit wear.
This is team spirit wear made easy.
Spirit Wear for Fans
High school football spirit wear is a big money maker for apparel decorators.
That's because high school football is the most popular high school sport across the country. It gathers large numbers of fans together.
And when they gather, they want fan wear that supports their team and shows their pride.
Students, family members, friends, alumni, and local residents all wear football spirit wear. Whether it's to the game, or out and about, it's a staple piece of clothing during football season.
Spirit wear adds an extra element to the game for fans. It unifies fans and brings them together. Not only the game, but tailgating events as well.
You can print so many fan wear items for the game or tailgating.
And because football season spans over several seasons of the year, including warm to cold temperatures, the same fan will want several apparel items.
To start the season, t-shirts are great. But after a few weeks in, hoodies will keep fans warm as the temperatures cool down. Then fans will want warmer items like winter hats and blankets towards the middle and end of the season.
Here is a list of items for football spirit wear ideas:
t-shirts
hoodies
caps
jackets
umbrellas
sweatpants
blankets
rally towels
replica jerseys
scarves
mittens
winter hats
football mom shirts
tote bags
cinch sacks
stadium seats
tailgating items such as grill mits, car window flags, can coolers, and cooler bags
All of these items can be custom printed using screen printed transfers and your heat press.
And besides all of those apparel items, use the same artwork to get stickers. Stickers are great for car windows, water bottles, laptops, and any other item that a sticker would adhere to.
[Related Content: Printing Custom Football Apparel: The Ultimate Checklist]
Football Spirit Wear Designs
If your customer doesn't have any particular artwork, and you're not an artist, don't worry.
The Easy Prints® artwork collection is made up of thousands of layouts and clip art that you can use to customize and create your own design, using Easy View®, the online design center.
Choose one of the hundreds of football themed layouts, and you'll have your own design finished in just minutes.
Just type in your city or school name, swap out the clip art if you want, or add the school mascot, and you're done.
It's quick and easy to use. Easy View is online, so you don't have to download any programs, either.
There are all kinds of football layouts to choose from. Some for uniforms, some for fan wear, with all sorts of phrases and themes.
When designing your transfer sheet, make sure you utilize all of the real estate space. The sheet size for screen printed transfers is 11.25" x 14".
Add as many images as you can to the sheet. The cost per sheet stays the same no matter if there is 1 image on the sheet or 10.
So on one sheet, you may be able to fit multiple images per sheet, depending on your artwork sizes.
Then you can print multiple items from each sheet. Since the sheet price doesn't change, your price per image decreases with every extra image you add to the sheet.
This will help lower your overall print costs.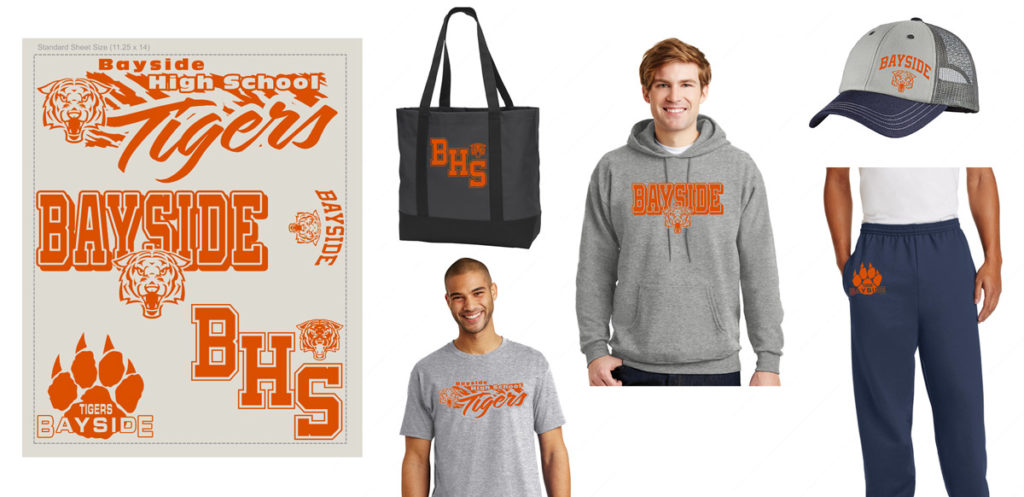 Since there are so many items you can print (see list above), there's surely something you can use each print for.
Plan out your sheet accordingly. Add a cap print. Add a print for hoodies and t-shirts.
The designs don't have to be complicated either. A lot of times, simple text designs sell the best. This leaves you more space on your transfer sheet to add more to it.
[Related Content: Keep it Simple When Creating Art for T-Shirts]
Have fun with your designs, too. Is your local team anticipating making the playoffs? Run with that! Make t-shirts or rally towels that say something like "the road to the championship goes through Compton" (replace Compton with your city name).
Another idea is to find out who the star players are and make "Compton for MVP" shirts (replace Compton with the player's name).
This makes it fun and you know all their family and friends will buy them!
Fundraisers Using Spirit Wear
Work with the local schools and offer to do a fundraiser for them with football spirit wear.
Schools are always looking for ways to raise money for their programs.
Offer a portion of sales to the school booster club. As part of the fundraiser, you can even get parents to volunteer to help organize and sell the apparel.
Sell the apparel during games and set up a booth. Make an event of it and print the shirts on the spot. Allow fans to choose a design and even have the ability to add "MOM" or "DAD" as an extra add-on.
Use Express Names™ to have them in stock to press on the spot.
[Related Ebook: 10 Things to Know About Heat Printing at Events]
Rally towels are inexpensive to print, and fans love them. Work with the school to plan a "white-out" night, where everyone in attendance gets a rally towel.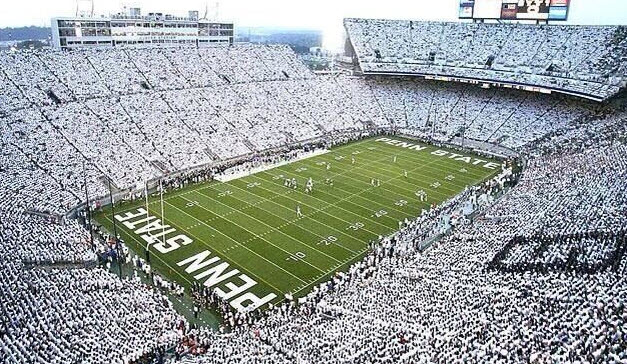 Or sell them as a fundraiser, and a portion of the profits goes towards the school booster club.
[Related Content: Printing Rally Towels is Easy Using Custom Transfers]
October is Breast Cancer Awareness Month. During this month, professional football players wear pink to support the cause.
You can do something similar by selling pink apparel with the school mascot/name.
Make replica jerseys in pink. As a fundraiser, a portion of sales can go to a charity of choice that supports Breast Cancer Awareness or Research.
School Spirit Wear Online Store
Selling football spirit wear or creating fundraisers is very easy using an online store to collect payment and fulfill orders.
You don't have to worry about paper order forms floating around, collecting orders, or collecting payments.
Stahls' Spirit Sale makes this easy.
Our top growing customers have found the secret to success is setting up client specific webstores.
You can set up specific online stores for each of your customers. Have them shop for their items, add to cart, and pay right on the website.
Then you get the orders and can fulfill them after the deadline you set for them.
That way you can order all of your apparel and transfers at the end and know exactly how many you need to buy.
With Stahls' Spirit Sale, you don't pay per store. You can set up an unlimited number of stores, all for the same low, flat rate price for the whole year.
There are no credit card fees per transaction, either.
[Related Webinar: Secrets for Making More Money with Online Stores]
Printing Football Spirit Wear
Printing team spirit wear for football is just as easy as designing and taking the orders.
You don't need to over-think the printing process or complicate it.
Screen printed transfers and a heat press are all you need.
Screen printed transfers will give you the same end result of a screen printed shirt, but without the messy inks, expensive equipment, time investment, and high learning curve that screen printing itself requires.
We do all of that for you.
Just order screen printed transfers with your design, and we'll print the transfers and ship them to you.
Then all you need to do is apply the transfers with your heat press to blank apparel.
Our most popular and best-selling screen printed transfer type, Goof Proof®, applies in just 4 seconds!
That's right – you can screen print a shirt, start to finish in one step that takes 4 seconds per shirt.
The finished result looks and feels just like direct screen printed shirts. The quality and durability are just as high, too.
Our screen printed transfers are tested through 50 wash/dry cycles.
All you need is a heat press to apply the transfers.
We hope you found this post helpful in learning more about football spirit wear and how you can design and print spirit wear.
With just a heat press and screen printed transfers, you can print quickly with no mess and know that you are giving your customers high quality, retail-ready apparel.